The Port of Malaga
---
The age and history of the port goes back to the ninth century BC when the Phoenicians founded what is known today as Malaga. Over time and many expansions it has become a harbour with amazing facilities that accommodate all types of commercial activities such as fishing, loading and unloading of containers, the cruise business, operating as a marina, etc.
Cruises in Malaga
---
The excellent facilities of the Piers of the Port of Malaga facilitate the docking of several cruises; on many occasions in recent years you could even see coinciding up to 5 large cruise ships docked easily. Many of these cruises stay for a few hours in the port and give the passengers the opportunity to get to know a little bit the city of Malaga and its municipalities.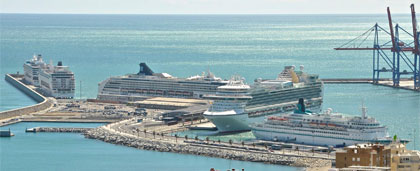 Pier One
---
Pier One is one of the newly refurbished areas whose effort and investment have managed to enlarge the port of Malaga. Moreover, they have managed to convert a non-transited area in one of the most important points of interest in Malaga city. At Pier One there is a long walk with all kinds of shops, restaurants and service areas. While walking we can enjoy the view of boats docked next to us and all port facilities.
Pier Two
---
At Pier Two we find another of the refurbished areas which is really worth visiting. A nice wave-shaped structure will rise upon us to serve visitors as a sunshade. During the stroll down the long Pier Two we see some buildings, small gardens and even the Aula del Mar Alborania, which is one of the museums of Malaga.
Other Piers
The port of Malaga has another 7 Piers, plus a Marina. These Piers work constantly and their facilities are mostly prepared for commercial activity and freight.
The Marina
---
The Marina of Malaga is situated next to the Lighthouse and at the end of Pier One, known as well as "Puerto del Real Club Mediterraneo". The facilities allow the mooring of up to 107 boats and have all amenities among which are worth mentioning an area for divers, a yacht club, health care, restaurant, etc.
The Lighthouse Farola
The Lighthouse was constructed in 1817 and has become one of the landmarks of Malaga. It is 38 metres high and theoretically its flashes every 20 seconds reach up to 25 nautical miles. It also serves to air traffic.
Parking
Thanks to recent renovations Malaga port area has parking for more than 1000 cars so if you travel by car you won´t have trouble parking at the port.
Transfers to the Port
---
Malaga Transfer offers all kinds of transportation services from Malaga to hundreds of destinations on the Costa del Sol and Andalucia. We transfer to and from the Port of Malaga, which can be perfect if you arrive at the port of Malaga on a cruise and want to visit a locality in the province.