Transfers from Malaga airport to Marbella
---
We are experts in transfers by taxi or private minibus to Marbella, one of our most popular destinations. Your driver will meet you inside Malaga airport to take you to your hotel in Marbella; click here to start booking.
Private taxi to Marbella
---
Standard 4 PAX

Executive 4 PAX

Luxury 4 PAX

We have different models of 4 seater cars for your transfer to Marbella from Malaga airport. You can opt for an economical choice with our standard vehicles; we offer higher quality transfers with our Executive vehicles or you can travel to Marbella in a luxury high-end car.
Request a quote for a transfer to Marbella from Malaga airport on our booking page.
Transfer by Minibus to Marbella
---
People Carriers 7 PAX

Minibus 12 PAX

Minibus 19 PAX

For transfers of large groups of travellers to Marbella we have three categories of vehicles: The first is the Minivan with capacity of up to 7 people, in addition to our two types of Minibuses, one for 12 passengers and another one for up to 19 people.

Request a quote for a Minibus to Marbella from Malaga airport on our booking page.
Way of transport to get to Marbella
---
Malaga airport is situated fifty kilometres from Marbella and it is important to make a good choice of the different transportation options available for taxis from Malaga airport to Marbella or any other destination.
Marbella Bus: available a Portillo bus that brings you to Marbella in just 40 or 45 minutes.
Train to Marbella: The Renfe suburban railway leaving at the airport only brings you to Fuengirola; there you can take a bus that leaves you in the municipality of Marbella.
Private taxis to Marbella: It's a great form of transportation if you want comfort; it can leave you exactly where you indicate, avoiding the possible inconvenience of finding parking for the rental car. The most exclusive and suitable option for your trip to Marbella are the private taxis; a driver qualified to drive a high-end vehicle will bring you to your hotel providing the best trip possible; this category is outstanding for its reasonable price.If you want to get your quote click here.
Rent a car: Car rental is another option that provides more flexibility when choosing your transport to any of the destinations on the Costa del Sol. You will find good companies at the airport offering different prices for rental cars; each company have their own conditions and benefits.
From the following link you can learn more about how to go to Marbella from Malaga airport.
Visit the Luxury resort of Marbella
---
"Its reputation precedes the city as the luxury resort on the Costa del Sol, a name always wanted and desired, a unique distinction well justified by all that Marbella offers. The city is home to the wealthy tourism from the beginning although despite its exclusivity Marbella serves and is equally attractive to all kinds of tourists. Many visitors are impressed and let themselves be seduced by its grandeur, acquiring a holiday accommodation in the town; many times this happens with personalities of international prestige."
Marbella Golf Courses
---
In this area the municipality defends itself in a formidable way by housing a total of up to twenty golf courses. Outstanding is the Marbella Golf & Country Club, so extensive and well-kept that foreign tourists keep coming back to the Andalusian province to continue the sport. Other golf clubs such as Santa Clara Golf, Golf Rio Real, Aloha Golf, Los Naranjos, among many others make Marbella the best place to practice and hold Golf tournaments on the Costa del Sol. We have a perfect fleet of taxis to get to the Marbella Golf Courses.
Beaches, harbours and holidays in Marbella
---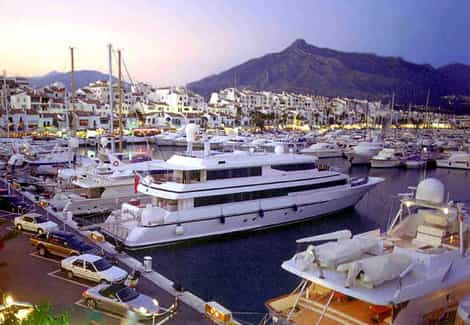 The biggest tourist attraction in Marbella, from the beginning of town to Puerto Banus in the west, covers a distance of ten miles of beaches, small harbours and rocky areas. As mentioned, in this stretch we find sheltered beaches which are always unique; you can´t hardly say you have been in wo equal beaches. Among the sands of its beaches emerge the three ports, of which, by reputation Puerto Banus is always the most relevant; an area that sometimes shows its most glamorous facet with its boats, sports cars, shops, restaurants, personalities, and in other situations shows more extravagant nuances. Destination of celebrities and famous, wealthy, sheikhs and tourists but always under a common denominator: Luxury and extravagance.
If you are interested you can know more about Transfer to Puerto Banus.
Luxury, shops and shopping centre
---
The boutiques and shops for jewellery, cars and interiors abound in Marbella and are well known for their high prices due to the name and exclusivity of their brands. A perfect place in the province of Malaga for those with capital to spend a large sum in a dress of the best known designer, in the last Ferrari, in the decoration of their home in the latest trends and endless possibilities that only a few have at their disposal. The town has a shopping centre, La Cañada, of considerable size and potential interest to tourists with a thirst to consume with a variety of services and shops.
Puerto Banus shops, La Cañada and other stores are easily achievable with our services of luxury transfers from Malaga airport.
It is worth mentioning that the municipality is not only luxury, beaches and parties at night but its streets await proposals for cultural tourism, as promoted in recent years by the city of Malaga. Marbella offers modest but interesting proposals in art and culture with the Ralli Museum, dedicated to Latin American art, Bonsai Museum, Museum of Contemporary Spanish Engravings, the municipal collection of the Museum of Archaeology and Mechanical Arts. Parks and churches are also included in the current view of the city and present in a dignified way a good alternative to the tourist.
Transfers to Marbella
---
Many tourists are planning their holiday in advance and discover that around Marbella there are other locations that offer varied environments and ways of leisure; they venture to travel the forty miles that separate them from Ronda to the north; Fuengirola to the east, or visit the coastal town of Estepona, in the west. Maybe you could be interested in the next: