Transfers from Malaga airport to Torremolinos
---
We are experts in transfers by taxi or private minibus to Torremolinos, one of our most popular destinations. Your driver will meet you inside Malaga airport to take you to your hotel in Torremolinos; click here to start booking.
Private taxi to Torremolinos
---
Standard 4 PAX

Executive 4 PAX

Luxury 4 PAX

We have different models of 4 seater cars for your transfer to Torremolinos from Malaga airport. You can opt for an economical choice with our standard vehicles; we offer higher quality transfers with our Executive vehicles or you can travel to Torremolinos in a luxury high-end car.
Request a quote for a transfer to Torremolinos from Malaga airport on our booking page.
Transfer by Minibus to Torremolinos
---
People Carriers 7 PAX

Minibus 12 PAX

Minibus 19 PAX

For transfers of large groups of travellers to Torremolinos we have three categories of vehicles: The first is the Minivan with capacity of up to 7 people, in addition to our two types of Minibuses, one for 12 passengers and another one for up to 19 people.

Request a quote for a Minibus to Torremolinos from Malaga airport on our booking page.
Torremolinos, Costa del Sol
---
The town of Torremolinos is one of the closest destinations from Malaga airport, being located at a distance of only seven and a half kilometres. The municipality has an international reputation for its beaches, good weather, its resorts and facilities; result of the tourist boom on the Costa del Sol during the early 60's; a phenomenon that turned a small fishing village into a true tourist resort which it is today.
Getting from malaga airport to Torremolinos
---
Transportation options to get to Torremolinos from Malaga airport are:
Train to Torremolinos: At the airport, next to the Terminal 3, is located the Renfe commuter train station stopping at the centre of town, only 450 meters from the beaches of El Bajondillo.
Bus from the airport: It is one of the best choices as there is available a bus line Portillo Malaga - Torremolinos that runs through the town making multiple stops; the disadvantage is that from the airport you will have to walk to Avenida de Velazquez road for a few minutes. Alternatively, take the bus that runs the main hotels in Torremolinos from Malaga airport; this alternative is organized by Avanzabus.
Malaga airport taxis: Our goal with taxis and transfers Malaga is to provide clients the most comfortable journey possible to your accommodation or requested destination. We understand customer needs and therefore we offer a shuttle service that offers everything required for the best price. First class vehicles and English speaking drivers, a customized service.
Car hire in Costa del Sol: An excellent means of transport if during your holiday in Torremolinos you choose to move around the different towns that comprise the province of Malaga. At the airport you have at your disposal many companies dedicated to renting cars, each with its own terms and conditions.
Visit Torremolinos
---
A quiet town in winter and busy in summer, crowded with foreign tourists as this municipality is one of their favourite destinations. A great place to spend your vacation days, Torremolinos also offers many reasons to be visited, as you can see below:
Torremolinos beaches
---
The beaches of Los Alamos, Bajondillo, Playamar, La Carihuela; each of these beaches have their peculiarities but all with one common denominator: providing large areas of beaches bathed by the Mediterranean Sea, all of good quality and with well-maintained installations.
The facilities at the beaches of Torremolinos have sun beds with umbrellas, showers, walkways in good condition and generally at a certain distance appears in the sand a green paradise with palm trees decorating and giving value to its beaches; pedal boats and jet skis, among other amusements.
Along the promenade you will find many places to buy gifts and typical products of these dates. Opposite the beaches are also situated a large number of hotels built at the beginning of the tourist boom; here you will also find bars and restaurants offering the best "fried fish".
You can visit these beaches and restaurants thanks to our service of transfers in Malaga.
Leisure and entertainment in Torremolinos
---
Since many years Torremolinos is also outstanding for its excellent sports centre; having four grass football pitches, an athletics track, two indoor pools of which one is Olympic, another Olympic outdoor pool along with one prepared for diving, indoor football, tennis courts, paddle courts and even a skate park. There is also a great sports palace where you can practice many sports and sports activities throughout the year.
Aqualand Torremolinos is one of the best water parks you'll find Malaga and during the summer days it fills with children, teenagers and families.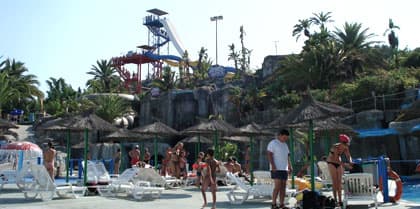 The pine grove in Torremolinos is a large natural area ideal to completely change your environment to one closer to the mountains and countryside; during the weekend in the winter months many families come here to have picnics. If you like this kind of activity you may also be interested in the Botanical Gardens of Molino de Inca, next to the pine grove of Torremolinos. The garden is a beautiful place full of nature with a variety of birds, owls, eagles, toucans with unique plants and flowers that culminate with a beautiful Japanese garden among plenty of ornamentation.
Not surprisingly, if you keep wanting more in relation to parks and gardens we recommend to visit Parque de la Bateria, you won´t be disappointed.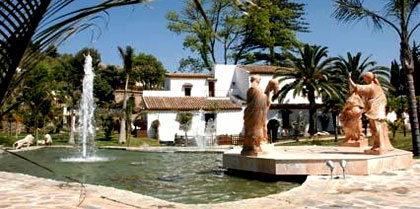 Crocodile Park offers an alternative to leisure with a centre whose protagonists are crocodiles; you can walk around the facilities and observe closely each of these reptiles and other animals. Another entertainment alternative is to go to street markets held every Tuesday and Thursday, offering many opportunities at discounted prices; there is also a flea market with second-hand items and antiques every Sunday.
Festivals and traditions
---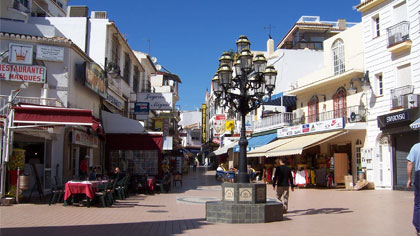 San Miguel Street - Shopping, restaurants, gifts, cafes
The most important festivals in Torremolinos are held annually by mid-September and are two: The Pilgrimage and the San Miguel Fair. Two celebrations that attract visitors from anywhere in Malaga, especially the pilgrimage. The fair starts the following week and lasts about 4 days. During these dates the streets are filled with Fair-goers and pilgrims living with joy and intensity the festival days.
Torremolinos also has a bullring next to the sports centre and the fairgrounds. In this same area is situated the Auditorium which hosts exhibitions, concerts and performances throughout the year.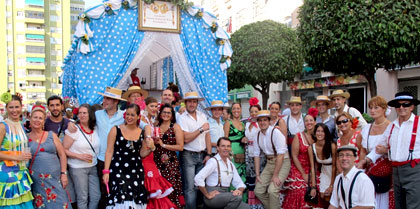 In the municipality of Torremolinos also there are lots of ways to enjoy the evening with a lively nightlife for all tastes. In the centre you can dine, have some drinks, go for a walk and around the coastal area there are many good pubs from the area of the sea promenade to Los Alamos. Due to the proximity of other municipalities many tourists decide to visit the destinations of Benalmadena, Fuengirola and Mijas Pueblo.
On our website we tell you how to get there and what are the attractions the following links: