Transfers from Malaga airport to Benalmadena
---
We are experts in transfers by taxi or private minibus to Benalmadena, one of our most popular destinations. Your driver will meet you inside Malaga airport to take you to your hotel in Benalmadena; click here to start booking.
Private taxi to Benalmadena
---
Standard 4 PAX

Executive 4 PAX

Luxury 4 PAX

We have different models of 4 seater cars for your transfer to Benalmadena from Malaga airport. You can opt for an economical choice with our standard vehicles; we offer higher quality transfers with our Executive vehicles or you can travel to Benalmadena in a luxury high-end car.
Request a quote for a transfer to Benalmadena from Malaga airport on our booking page.
Transfer by Minibus to Benalmadena
---
People Carriers 7 PAX

Minibus 12 PAX

Minibus 19 PAX

For transfers of large groups of travellers to Benalmadena we have three categories of vehicles: The first is the Minivan with capacity of up to 7 people, in addition to our two types of Minibuses, one for 12 passengers and another one for up to 19 people.

Request a quote for a Minibus to Benalmadena from Malaga airport on our booking page.
Visit Benalmadena Costa, Málaga
---
Benalmadena is situated in the area of the western Costa del Sol, next to emblematic cities such as Torremolinos, Marbella and Fuengirola. Located just 15 kilometres from Malaga airport, this resort is a great option for your holiday; largely as being one of the municipalities with more to offer as it has three distinct areas: Benalmadena Pueblo, Arroyo de la Miel and Benalmadena Costa. Here we explain the different means of transport available.
Getting to Benalmadena from the airport
---
Busses at the airport: There is an option to get to Benalmadena from the airport by bus, although the bus picks up passengers along the road Avenida Velazquez which is a potential inconvenience or discomfort due to the distance between arrivals at Terminal 3 and the bus stop.
Malaga Train Station: At Malaga airport next to the Terminal 3 is located the Renfe suburban train station. Taking the suburban train, it takes you about 20 minutes to get to Arroyo de la Miel (Benalmadena); there are as well stops further ahead in Torremuelle and Carvajal, belonging to the municipality of Benalmadena.
Taxis: The taxis always waiting outside the airport can take you to your hotel in Benalmadena if necessary; you don´t have to depend on where you get off the train and walk to your accommodation; with Malaga taxis you arrive directly at your chosen destination.
Transfers from Malaga airport: All the advantages of conventional taxis, plus many benefits that make it the best means of transport. At a similar price like taxis but with more professional services, without waiting queues, always knowing the cost of your trip, travelling in a first class vehicle and with multilingual drivers. Learn more about our transfer services.
Car hire: At arrivals you will find a large number of companies dedicated to car rental, such as AurigaCrown, Malagacar.com, RecordGo, Sixt, GoldCar, among others. With this service you can reach your destination and move around other towns in the province without any inconvenience.
Leisure and entertainment in Benalmadena
---
"The large area comprising the municipality includes 3 distinct areas: Benalmadena Pueblo with a characteristic style of the interior towns of Malaga and Mijas, Antequera and Ronda, whose main attraction and charm is to maintain intact the facades of its low white houses that offer an antique look that stand out among current modern cities. Arroyo de la Miel is the centric area of Benalmadena with a much more modern appearance. Benalmadena Costa is the most touristic part of the municipality with its marina, hotels and beaches."
Beaches and coves of Benalmadena Costa
---
One of the best areas of beaches on the western Costa del Sol for its large coastal areas, although mainly there are outstanding the small coves in the western portion of Benalmadena. These coves break the monotony of long sandy plains changing into rocky areas and cliffs, some of them extending into the sea and bathed by the Mediterranean Sea. We especially like the Calas de Las Yucas.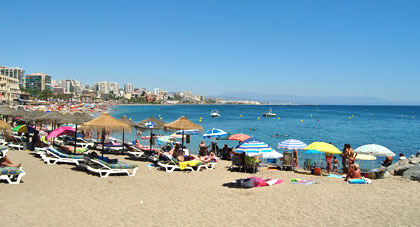 Other recommended beaches are Malapesquera which is located next to the marina of Benalmadena and is considered the largest beach in Benalmadena; Beach of Castle Bil Bil, also the beach of Arroyo Hondo next to Torrequebrada casino, the beach of Arroyo de la Miel, Carvajal beach. We recommend due to its shape and being less frequented the beaches of La Perla or La Morera; also the beach of Santa Ana, among many others.
Attractions in Benalmadena
---
"Benalmadena has many proposals for the enjoyment of your holiday, among which we would like to highlight the following:"
Cable Car: Unique in Malaga, this cable car crosses part of the town to climb the mountain to an altitude of 800 meters and from where you can overlook the whole coast from a superb space.
The famous Tivoli World, open since 1972, provides nonstop fun and entertainment to its visitors. Among its attractions there is a drop tower, carts, big wheel, roller coasters; it also has good shows and is always renewing its offer with new proposals and ideas. The perfect place to spend a nice day with the family and have plenty of fun.
Another great alternative to leisure are the golf courses Torrequebrada and Benalmadena Golf, two great golf areas which, although might not rise to the standards of golf courses of places like Marbella or Estepona, present a great opportunity to practice this sport without leaving the resort where you are staying. We recommend visiting our transfers for golf days in Malaga.
Butterfly Park and Buddhist temple: They are situated next to each other in the part of Benalmadena Pueblo. The Butterfly Park boasts a living catalogue of Butterflies and caterpillars and a very interesting collection of exotic plants. The Buddhist Temple breaks the stereotypes of attractions on the Costa del Sol and offers a very different image besides the spiritual aspect and furthermore provides beautiful views from its vantage point.
Colomares Castle: Located halfway between the town of Benalmadena and the coast, this is a recent monument (built from 1987-1994) in honour of Christopher Columbus in the discovery of America.
Ice Rink: For several years the town has its own ice rink that brings fun to the initiated and skating enthusiasts on this sliding surface.
Hiking is present in the mountains of Benalmadena with varied routes that will please fans of this healthy activity.
These places are reachable thanks to taxis companies like airport Malaga transfers. So if you need some kind of information about our company we invite you asking from our contact form.
Other places to see
---
The fair area holds many attractions for tourists; we are going to list all the interesting things in this part of Benalmadena:
The fairground is the epicentre of the San Juan Fair in Arroyo de la Miel in the last week of June. In this large area also take place other fairs and events throughout the year.
In this same area takes place every Wednesday the flea market of Benalmadena, a special place where you can get real bargains and antiques at greatly reduced prices; products you won´t find anywhere else. Specifically this flea market has many articles in English language.
The Park Parque de la Paloma is the largest green area in the municipality with a wide variety of flora and fauna including mammals, birds and fish in a large pond with is even more beautiful when the fountain is switched on. Inside is situated in harmony with the environment a library frequented by students and readers.
Selwo Marina: Here we have a fabulous park dedicated to bringing closer the animal world to curious and lovers of nature: Mammals such as dolphins, squirrel monkeys, armadillos, sea lions; different types of penguins, and many exotic birds; you will encounter fascinating reptiles, creepy arthropods and many types of fish.
Castle Bil Bil, a beautiful building from 1927 in Arabic style, which serves as exhibition and events centre; a place that captivates many tourists and where are also held weddings.
All these interesting places of Benalmadena can be reached through our transfers. Need to know the prices for private taxis?
Port of Benalmadena
---
The Benalmadena Marina is one of the most beautiful found on the Costa del Sol, with a structure and facilities few in Malaga can catch up with; thanks in part to its two artificial islands in the interior where have been created residential areas and the non-existent parking area leaves space for a peculiar mooring area.
Puerto Marina has a great deal on all kinds of restaurants, snack bars, clothing and gifts shops, ice cream parlours, in an idyllic, peaceful and relaxing place, which changes dramatically with nightfall and the night life taking place in nightclubs and bars during the summer and weekends throughout the year.
The marina has a nautical club equipped with good facilities, providing various activities and training regarding water sports and diving for all levels and ages. Nearby is situated the Sealife marine centre that amazes visitors with its otters, seahorses, black tip sharks, rays, octopus, jellyfish and many more species.
Many tourists come to Benalmadena to enjoy its many attractions and leisure facilities and even venture to know other very close places such as Mijas village, Fuengirola and Torremolinos Learn more about destinations in high demand and near Benalmadena like: