Transfers from Malaga airport to Cadiz
---
We are experts in transfers by taxi or private minibus to Cadiz, one of our most popular destinations. Your driver will meet you inside Malaga airport to take you to your hotel in Cadiz; click here to start booking
Private taxi to Cadiz
---
Standard 4 PAX

Executive 4 PAX

Luxury 4 PAX

We have different models of 4 seater cars for your transfer to Cadiz from Malaga airport. You can opt for an economical choice with our standard vehicles; we offer higher quality transfers with our Executive vehicles or you can travel to Cadiz in a luxury high-end car.
Request a quote for a transfer to Cadiz from Malaga airport on our booking page.
Transfer by Minibus to Cadiz
---
People Carriers 7 PAX

Minibus 12 PAX

Minibus 19 PAX

For transfers of large groups of travellers to Cadiz we have three categories of vehicles: The first is the Minivan with capacity of up to 7 people, in addition to our two types of Minibuses, one for 12 passengers and another one for up to 19 people.

Request a quote for a Minibus to Cadiz from Malaga airport on our booking page.
Visit the city of Cadiz
---
"In Cadiz settled for over 3000 years different cultures as the Iberians, Greeks, Phoenicians, Romans and Visigoths. Possibly this fact makes it one of the oldest cities in Europe. The city was favoured and strengthened thanks to its thriving trade and partly because of its location, close to Africa, with which it maintained good commercial connections."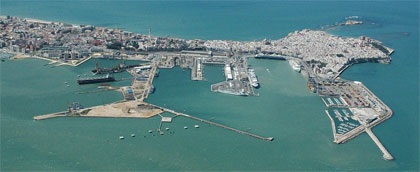 Cádiz currently has around 120.000 residents; when contemplating the situation, it seems difficult to perceive an increase in expansion and population since the city is encased in a kind of island and whose surface hardly allows any more place where to build. You reach the city via two accesses in the form of bridges.
What places you should visit in Cadiz?
---
During your visit to the city of Cádiz, you'll see well preserved monuments; buildings that are part of the history of the place. For example, you see the wall built in the eighteenth century that served as protection in the past, in addition to the "Puerta de Tierra" dating from the same period as the wall. Every inhabitant of Cadiz will recommend you a quiet stroll through the old city and its streets. In Cadiz remains patent the passage of the Romans as there is still standing one of the few Roman theatres that were discovered in Spain. Very close to the theatre is situated one of the most important monuments, the Cathedral of Cadiz, whose construction lasted over 100 years and began in 1722. There are also other religious buildings such as the Church of Santa Cruz and the Church of San Felipe Neri.
Situated among trees in Plaza Mina, you'll find the Museum of Cadiz. Close by are situated the quaint mansions Casa del Almirante or Casa de las Cadenas. To enjoy a bit of nature you have the possibility to take a nice walk in the Park Genoves, which is highly recommended. There are two castles whose shape and location are very attractive. The Castle of Santa Catalina located below Park Genoves is shaped like a star. In the northwest of the city, continue for half a kilometre on a path linking Cadiz with a kind of island where is situated the Castle of San Sebastian. The 45 meters high Tavira Tower is another point of interest.
The beaches of the province of Cadiz
---
Very close to the city, in the province of the same name, you can enjoy authentic havens of large areas of beaches, with nothing built around it. In the province there are also other beach areas with plenty of hotels where to stay. In the province of Cadiz are situated the beaches of Valdevaqueros, Zahara de los Atunes, Playa de los Alemanes and the wonderful beach of Bolonia. Actually most of these beaches have great recognition being some of the best beaches in Spain.
Cadiz transfers
---
The distance between Cadiz and Malaga airport is about 250 kilometers, so we think that booking a transfer with Malagatransfer.co.uk can be very beneficial for you to reach this destination in Andalusia.
- Compare our taxi rates.
- Get a fast quote by filling out the next form.