Transfers from Malaga airport to Tarifa
---
We are experts in transfers by taxi or private minibus to Tarifa, one of our most popular destinations. Your driver will meet you inside Malaga airport to take you to your hotel in Tarifa click here to start booking.
Private taxi to Tarifa
---
Standard 4 PAX

Executive 4 PAX

Luxury 4 PAX

We have different models of 4 seater cars for your transfer to Tarifa from Malaga airport. You can opt for an economical choice with our standard vehicles; we offer higher quality transfers with our Executive vehicles or you can travel to Tarifa in a luxury high-end car.
Request a quote for a transfer to Tarifa from Malaga airport on our booking page.
Transfer by Minibus to Tarifa
---
People Carriers 7 PAX

Minibus 12 PAX

Minibus 19 PAX

For transfers of large groups of travellers to Tarifa we have three categories of vehicles: The first is the Minivan with capacity of up to 7 people, in addition to our two types of Minibuses, one for 12 passengers and another one for up to 19 people.

Request a quote for a Minibus to Tarifa from Malaga airport on our booking page.
Getting to Tarifa from Malaga airport
---
Other transport options to get there from the airport:
---
It is possible to travel to and from Tarifa from Malaga airport by bus from the bus station in Malaga although there are only two times to get there, at 7:30 am or at 1:30 pm. For the return trip you can take a bus at 8:45 am, at 3:45 pm or at 9:30 pm. The trip to Tarifa by train is impossible as there is no railway station; the nearest town accessible by train is Algeciras from where you would have to take a bus to Tarifa.
Furthermore, at the airport in an area next to the exit of Terminal 3 where are waiting a large number of conventional white taxis to take you to your destination at a substantially higher cost than public transport.
Finally you can consider the possibility of going to Tarifa driving yourself from Malaga. For this we recommend the rental companies inside and outside the airport.
Enjoy Tarifa
---
"Tarifa is a coastal town of Cadiz with a fairly small population below 20,000. It is located 100 km from Cadiz and 150 kilometres from Malaga airport and is recognized for having some of the best beaches in Andalucía such as Los Lances, Dos Mares, Valdevaqueros or the beach Bolonia known for its dunes."
Main things to do and see in Tarifa
Tarifa is nowadays a tourist destination of Cadiz that is striking for its stunning and spacious white sand beaches where usually blow strong winds. These winds make the beaches of Tarifa in a perfect place for water sports like surfing, kite surfing, wind surfing, water skiing or even kite.
The position and shape of the town is very peculiar; first as it is the southernmost town in Europe you can see perfectly the coast of Africa and second by the peninsula called La Isla de las Palomas that belongs to the municipality.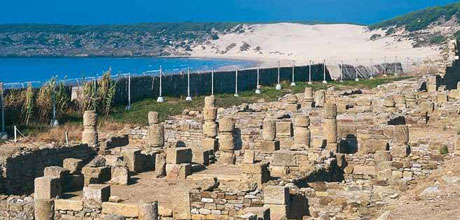 In Tarifa you can enjoy visiting different places like the Castle Guzman el Bueno, Puerta de Jerez or take a walk through the streets and the harbour. It is also really interesting to visit the Castle Santa Catalina which is a Renaissance palace of the nineteenth century. But undoubtedly you cannot miss a visit to the Roman ruins of Baelo Claudia belonging to the ancient Roman city from the II century AC with a museum on site where you can find more information about its history.