Transfers from Malaga airport to Ronda
---
We are experts in transfers by taxi or private minibus to Ronda, one of our most popular destinations. Your driver will meet you inside Malaga airport to take you to your hotel in Ronda click here to start booking.
Private taxi to Ronda
---
Standard 4 PAX

Executive 4 PAX

Luxury 4 PAX

We have different models of 4 seater cars for your transfer to Ronda from Malaga airport. You can opt for an economical choice with our standard vehicles; we offer higher quality transfers with our Executive vehicles or you can travel to Ronda in a luxury high-end car.
Request a quote for a transfer to Ronda from Malaga airport on our booking page.
Transfer by Minibus to Ronda
---
People Carriers 7 PAX

Minibus 12 PAX

Minibus 19 PAX

For transfers of large groups of travellers to Ronda we have three categories of vehicles: The first is the Minivan with capacity of up to 7 people, in addition to our two types of Minibuses, one for 12 passengers and another one for up to 19 people.

Request a quote for a Minibus to Ronda from Malaga airport on our booking page.
Getting to Ronda from Malaga airport
---
Other transport options to get there from the airport:
---
First, at the exit of Terminal 3 you can take a bus to Malaga or the Renfe commuter train with a stop at the train station Malaga Maria Zambrano. From there you can take a direct train from Malaga to Ronda at 10 am and take one back at 4:50 pm. You also have the option to travel to Ronda by bus from Malaga bus station from where leave busses about every hour.
Otherwise, you can also use the service offered by conventional taxis waiting in line at the airport exit and which will take you directly to your destination by a significantly higher cost.
If have no objection to drive yourself on unfamiliar roads and streets you may choose the option of renting a vehicle from a rent a car company within or outside Malaga airport.

Enjoy Ronda
---
"Ronda is a municipality within Malaga province located north of Estepona and 105 kilometres away from Malaga airport. Ronda is considered one of the most beautiful villages of Andalusia and a complete destination with many landmarks to discover."
Main things to do and see in Ronda
---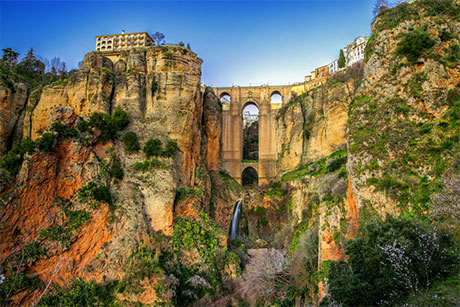 Those who have been in Ronda or have heard about the place, probably the first thing that comes into their mind is the Tajo de Ronda situated just below the New Bridge. El Tajo is a nearly 100 metres deep gorge from where you can contemplate part of Serrania de Ronda.
Just a little above the New Bridge you'll find the Bullring of Ronda, which next to the one of La Malagueta, in our opinion is by far the prettiest of Malaga. On the other hand, in the city you will find different gardens, parks and shopping areas where you can go for stroll. There is also evidence of the passage of other cultures by Ronda as the Arab baths or a few kilometres from the Roman Theatre Acinipo.
As for religious buildings we find two that stand out for their size and design, these are the parish church Santa Maria la Mayor near the city hall and the church of the Holy Spirit.

We could also mention other interesting places in Ronda as the Roman Bridge, the Arch of Philip V, the Wine Museum, the wall surrounding part of the city, the viewpoint of romantic travellers, the Almocabar Gate, etc.