Transfers from Malaga airport to Calahonda
---
We are experts in transfers by taxi or private minibus to Calahonda, one of our most popular destinations. Your driver will meet you inside Malaga airport to take you to your hotel in Calahonda click here to start booking.
Private taxi to Calahonda
---
Standard 4 PAX

Executive 4 PAX

Luxury 4 PAX

We have different models of 4 seater cars for your transfer to Calahonda from Malaga airport. You can opt for an economical choice with our standard vehicles; we offer higher quality transfers with our Executive vehicles or you can travel to Calahonda in a luxury high-end car.
Request a quote for a transfer to Calahonda from Malaga airport on our booking page.
Transfer by Minibus to Calahonda
---
People Carriers 7 PAX

Minibus 12 PAX

Minibus 19 PAX

For transfers of large groups of travellers to Calahonda we have three categories of vehicles: The first is the Minivan with capacity of up to 7 people, in addition to our two types of Minibuses, one for 12 passengers and another one for up to 19 people.
Request a quote for a Minibus to Calahonda from Malaga airport on our booking page.
Getting to Calahonda from Malaga airport
---
Other transport options to get there from the airport:
---
To go by train directly to Calahonda is not possible because the closest you can get is to Fuengirola and from there you can take a bus at the bus station to Marbella and get off at Calahonda. Although we recommend another combination as the previous one is time-consuming. We believe it is more convenient and accessible taking the shuttle bus to Marbella from Malaga airport and at Marbella bus station taking another to Calahonda.
Furthermore there are another two options to public transport; one is using the transport service of conventional taxis at the exit of the airport. The second option is hiring a car and driving to Calahonda; there are available different car hire companies both inside and outside the airport.
Enjoy Calahonda
---
"Calahonda is not a municipality itself, but an area of Mijas which received its name from Calahonda beach located there. A quiet place situated halfway between Mijas - Marbella and close to the port of Cabopino."
Activities and sights in Calahonda
---
Calahonda is mostly a huge area of 4 million square meters, full of developments amounting to a total of 7000 households, with just over half a million square meters of parkland. You cannot say it is of Spanish origin because here live mainly British, German and Scandinavian citizens.
The developments are of great quality and carefully maintained by their owners, which makes us think about recommending this destination if you are determined to buy a holiday home on the Costa del Sol.
If you want to enjoy a day at the beach, you have an excellent opportunity to relax on the beach in Calahonda. There you can enjoy a long stretch of beach where you´ll also find some bars for lunch. There are also many beachfront complexes providing rental of vacation apartments for a few weeks in summer.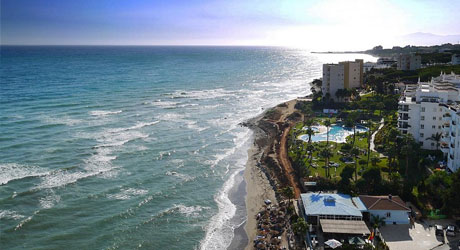 In addition to housing, Calahonda has some shops near the highway, such as a furniture store, a real estate, several different style restaurants, a pharmacy, a hardware store, a super market, among many other types of stores. It is possible to play golf in the area thanks to Miraflores Golf Club.
This area enjoys a wonderful location for its proximity to other places like Marbella, Mijas and Fuengirola, which we highly recommend visiting during your stay in Calahonda.