Costa del Sol nightlife
---
The province of Malaga has several towns with a great night life such as Marbella and Puerto Banus, Benalmadena, Torremolinos, Malaga centre, among others.
Going out in Malaga
---
Going out in the centre of Malaga is a pleasure; perhaps this is one of the areas of the province where are assembled more interesting places to party among pubs, bars and nightclubs. Generally you will find any style of music, with predominantly pubs with music pop / rock. In Malaga you can have a drink or a beer at an affordable price. Some of the most popular clubs are: Sala Moët, Spectra, Sound, Music Palace, Discotheque Anden, Discotheque Gold, White, Discotheque Liceo, Skopas, among many others. There are also many pubs where you can enjoy good music, dancing and your favourite drink.
Want to know how to get to Malaga?
Night life in Puerto Banus
---
The port of Marbella has a deserved reputation for being exclusive. Going out in Puerto Banus means access to great clubs, but yes, at an elevated cost. Not surprisingly, if you have enough money to spend on a night between 50 and 100 euros this is definitely your place to party. These are some of the best clubs in Puerto Banus: Discotheque Dreamers, Plato 68, Aqwa Mist, Pangea, Bar pub Desvan, among others.
Want to know how to get to Puerto Banus?
Night life in Torremolinos
---
This town is known for its clubs and pubs on the beach, such as Jammin, Mana, Maracas, Moliere Playa, Lombok, Cafe del Sol. Furthermore, the town of Torremolinos and especially the part of the centre is famous for its gay-oriented nightlife district; moreover, the municipality together with Madrid and Barcelona is among the few places that hold events and fairs for gays, being a gay tourism reference in Spain.
Want to know how to get to Torremolinos?
Pubs and clubs in Benalmadena
---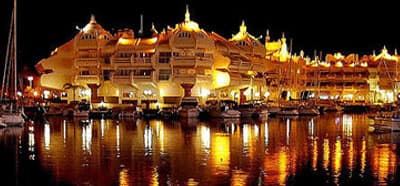 In summer and for young people this is the perfect place to go out. A lot of clubs and pubs are spread over the marina of Benalmadena. The place is very frequented by both foreign and Spanish tourists; maybe the downside is the price of the drinks which is a bit more expensive than in other night life areas such as Torremolinos and Malaga centre. The discotheques of Benalmadena we recommend are: Velvet, Mombasa, Monet, Maracas, Discotheque Kiu, Kaleido, Mondino, among others.
Want to know how to get to Benalmadena?
---
As mentioned, we take care to provide the best transportation for your party nights; find out more about our prices on private taxis.
Make an online enquiry to get your taxi for your nights out in Malaga. We have vehicles from 4 to 54 passengers, just tell us your needs.