Are you planning to come on holiday to Malaga in July and want to get an idea about the activities and the weather? We will try to answer all your questions, and if there are any remaining doubts, don't hesitate to ask us, we will be happy to answer them.
Is it safe to travel to Malaga in July?
After the Covid-19 pandemic, many people wonder if it is safe to travel and the answer is yes. You can travel with complete peace of mind and enjoy our beaches and villages, just as we do ourselves. Always following the established safety rules.
What about transport?
July is quite a popular month, although not as popular as August, as many tourists and visitors from the mainland choose to come on holiday. It is common for transport to be a little more crowded than usual, both train and bus.
However, if you wish, we can take you wherever you need to go. For example, if you book your arrival on 10 July at 22.00 at the airport, or at the train station, we will be there waiting to take you to your destination. And the return trip works in the same way, only this time we will pick you up at your place of residence. Is the flight delayed? Don't worry, we are always on top of all the details to make your experience the best it can be.
Excursions from Malaga in July
July is a good month for all kinds of excursions. You can visit monuments in our province or visit any place in Andalusia.
Excursions usually take about 5 hours for places near Malaga and about 10 hours if the destination is in another province of Andalusia. July can be an ideal month to visit Granada and its Alhambra or to take a walk through the old Ronda, a city that is a monument in itself. The options are endless and the month of July is a great time to visit thanks to the good weather.
Fancy a trip in July? No problem, contact us and we will help you plan your excursion from Malaga. Remember, the more people you are, the cheaper it will be per person.
Weather in Malaga in July
The main peculiarity of July in Malaga is that the temperature rises and reaches its highest point in August. The water temperature is also much more pleasant than in June and the beaches start to come alive.
If you like the sea, you may be interested in visiting an idyllic or uncrowded beach. A good plan is to leave in the morning to spend the day there and return at sunset. If you go to a place like Tarifa, you may also want to stroll through the streets and have dinner, in which case you can return in the evening. If you need it, we can take you there and back, so you can enjoy the day without having to think about transport.
Nights are warm, but you may still need some cover, especially if you're near the sea. Night-time lows are often in the low 20ºC, while daytime highs rarely drop below 30ºC. July is therefore a perfect month for long walks along the shore at sunset or sunrise.
What clothes to bring to Malaga in July?
We guess that if you visit Malaga in July you will want to enjoy the beach or the swimming pool, we also suppose that you would like to go out at night and visit other places in the province. Taking these factors into account, you shouldn't forget to pack the following in your suitcase: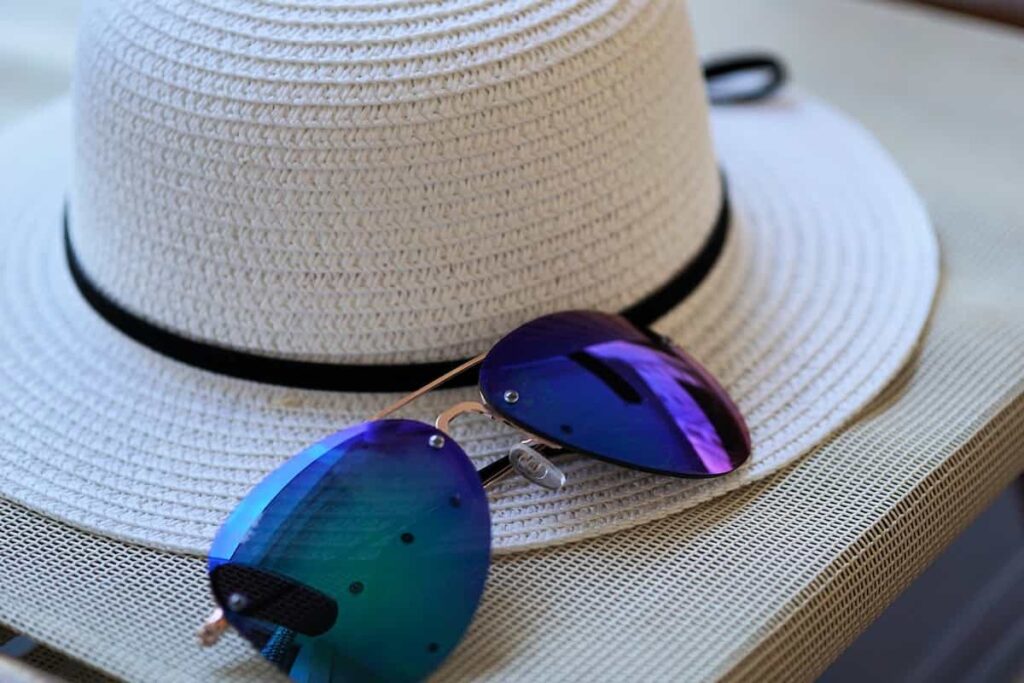 Sunglasses
Hat
At least one pair of swimming trunks
Open shoes
Shorts
T-shirts or short-sleeved shirts
Summer pyjamas
Sweatshirt or something warm for the plane ride, and in case it gets chilly at night.
Don't forget your sunscreen, we recommend factor 50+ if you are not used to sunbathing or if you get sunburnt easily. If you forget it, don't worry, you can buy it in pharmacies or supermarkets.
If you are visiting another inland province or town at night, you may need something warmer. For example, in Granada in July the temperature at night does not usually go above 19ºC, but is around 15 and 16ºC, rarely below 12ºC. During the day it is similar to the coast, and can reach 34ºC without any problems, rarely dropping below 28ºC.
If you find interesting the topic of temperature by provinces, we could make an article for each one according to the month. You can find detailed information on this link: https://weatherspark.com/
Eat and relax in July
It's common during July to walk along the promenade or lie on the beach and get a whiff of what the nearby restaurants are cooking. It's difficult, if not almost impossible to resist a sardine espeto or fried fish when you've already tasted it through your olfactory sense.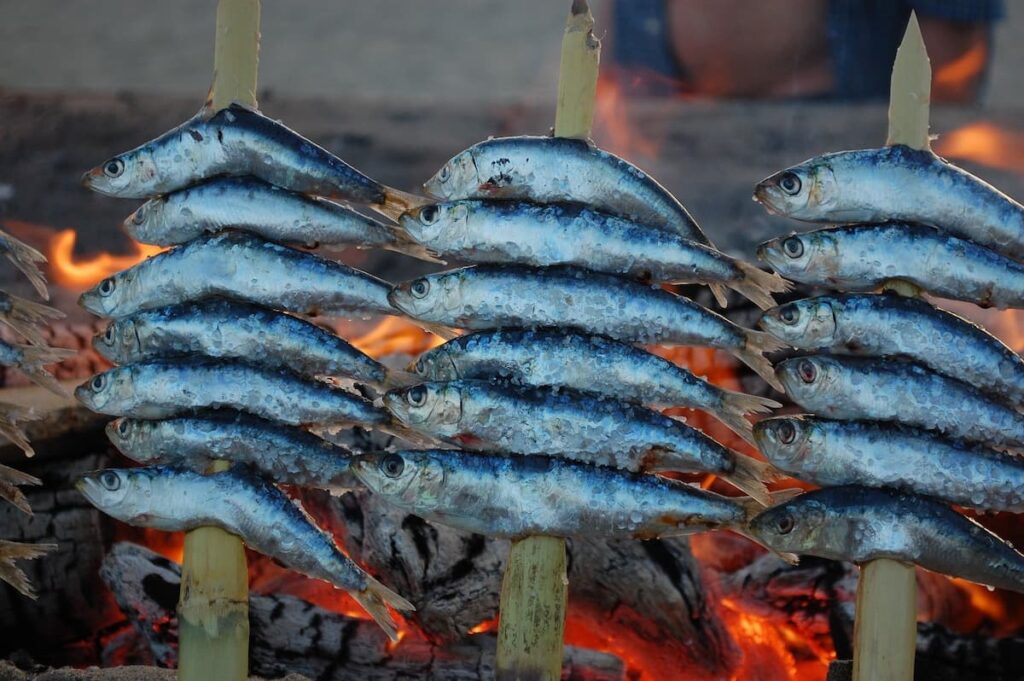 Enjoying a nice dish of fried fish in a beach bar in front of the sea in July is a very pleasant sensation, let's put it in context. You have a refreshing swim, then you go upstairs to eat and relax, and later you go down to the hammock and lie under the umbrella while listening to the sea waves. Peace and relaxation for your mind, while your stomach enjoys some good, healthy food.
During the evening, walks along the seashore are also very pleasant, as well as benefiting from the sea breeze.
Events and activities in July
There are a lot of things you can do in July, we can't list them all but we can give you some ideas:
Visiting natural pools in Malaga is always a good idea, especially when it's hot. There is nothing like a refreshing swim in a natural pool surrounded by nature.
How about visiting Puerto Banus? Undoubtedly a unique experience and from our blog, we recommend 5 places you should not miss.¿Ronda? We alreays recommend it, it is a beautiful and enchanting town.
Stroll through the centre of Malaga and visit the main monuments.
Water activities on the beach, from jet skis to pedal boats.
Marbella Starlite
If you like open-air concerts you might be interested in visiting Marbella Starlite, an annual festival where during June, July, August and September performances are offered in a unique location in Marbella.
During the month of July you can attend concerts by La Oreja de Van Gogh, Pablo Alborán, Melendi, Alan Parsons or Ella Baila Sola among many others. In August, Tom Jones arrives, in case you want to extend your stay in Malaga.
Do you want to go? We can take you and your group of friends there.
Fuengirola Marenostrum
This is another annual concert festival that takes place next to the Sohail Castle in Fuengirola for over 4 months, from June to September. Past editions have featured artists such as Sting and the Beach Boys.
Artists during this month:
Alejandro Sanz – 1 July.
Alejandro Makandé – 2 July.
Vicente Amigo – 3 July.
Rock in Family – 4 July.
Pink Night con 2 artistas – 10 July.
Camela – 15 July.
Robin Torres – 17 July.
Paco Candela – 18 July.
Juanly Montoya – 23 July.
Castlepark Electronic – 25 July.
Festival de Artes Escénicas – 26 July.
La M.O.D.A – 30 July.
Sidecars – 31 July.
If you are interested in attending, remember that we can bring and take groups there:
Local fairs and festivals
Although we don't know which ones will be held or changed this year, these are the main local festivals and festivals during the month of July:
Around 6th July: Feria de los Alamos in Torremolinos usually takes place at the beginning of the month.
First week of July: Estepona Fair.
16th to 18th July: Campanillas Fair suspended in 2021, but there will be alternative activities.
16th July: Processions of the Virgen del Carmen from the main coastal municipalities.
First weekend in July: Archez Fair.
Mid-July: Sayalonga summer fair.
4th July Festival in Macharaviaya.
Antequera Light Festival on 12, 13, 19 and 20 July. It commemorates the declaration of the Dolmens of Antequera as a World Heritage Site by Unesco. It has been held since 2016 and the timetable is from 20.30 hours in the auditorium of the Museum of the City of Antequera.
Some, such as the Campanillas Fair, have been suspended this year, but alternative activities have been proposed for these dates.