Malaga city, with almost 3000 years of history, has become in recent years a reference at the level of cultural offers, combined with the unique affable character of its inhabitants, the mild climate throughout the year and the bustle of a large Andalusian city open to the Mediterranean.
Malaga City
In the historic centre you can take a pleasant walk through the long history of this city founded by the Phoenicians and through which passed all great civilizations, leaving an important heritage that we enjoy today.
The historic centre of Malaga is delimited by Plaza de la Merced in the north, the river Guadalmedina in the west, Alameda Principal in the south and Mount Gibralfaro in the east, which is approximately the area during the Muslim reign delimited by the defensive walls of the city.

Monuments
In this perimeter are located all the great monuments of Malaga which are in chronological order the Roman Theatre, the Alcazaba and the Castle Gibralfaro of Moorish origin, the Cathedral and the great 18th century buildings like the Aduana and the Episcopal Palace.

Museums
The historic centre of Malaga also boasts a remarkable density of museums such as the Picasso Museum, the Centre Pompidou, the Contemporary Art Centre (CAC), Cathedral Museum, Ars Malaga Palacio Episcopal, Museum Felix Revello de Toro, Archaeological Exhibition Hall Alcazaba, Carmen Thyssen Museum, Museum of Arts and Traditions, Museum of Flamenco Art, Interactive Music Museum of Malaga (MIMMA), Glass Museum, Jorge Rando Museum, Wine Museum, Museum and Basilica of Santa Maria la Victoria.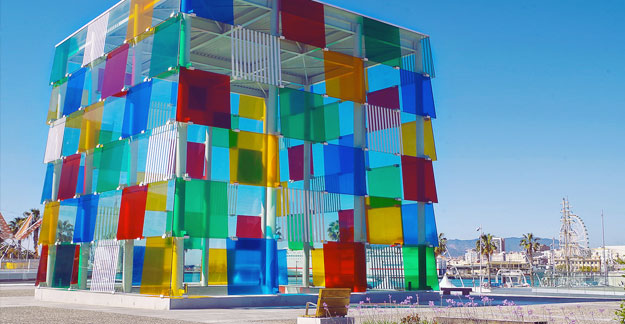 Calle Larios
Malaga invites for a stroll. One of the cities´ best known axis is the street Calle Larios, a pedestrian shopping street, from where you can go discovering beautiful squares as Plaza de la Constitucion or Plaza de la Merced, to name just the two most popular.

Markets
Enjoy traditional markets with fresh Mediterranean products and cuisine like Mercado Ataranzas, a beautiful iron building incorporating a Nazari arc of the fourteenth century or the recently renovated Mercado de la Merced with a large culinary gourmet offer in the middle of the historic centre.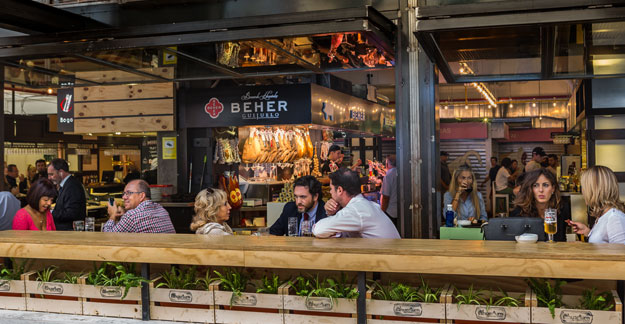 Parks
Strolling is definitely one of the pleasures in Malaga and a few metres from the historic centre you can enjoy a fresh walk in the Park of Malaga which is located by the sea, where it is also situated Palmeral de las Sorpresas ("Palmgarden of Surprises"), a new recreational area next to the Pier One.

Beaches
And you can perfectly combine a stroll through the historic centre with a visit to the beach since in Malaga you can enjoy the privilege of having both at only a short distance. Thus from the historical centre it only takes about a 15 minutes' walk to the beach of La Malagueta, a spacious urban beach next to the port of Malaga.

Gastronomy
So much walking surely stimulated your appetite: Malaga is known for its rich cuisine; try tasty Tapas and fresh fish, the typical "Frituras" and "Espetos". Enjoy!