The coastal town of Nerja, located on the eastern Costa del Sol, combines one of the best climates in Europe with a characteristic charm of white houses of Moorish origin surrounded by beaches and high mountains of the Axarquia.
No wonder Nerja is one of the most attractive tourist destinations; however it has not suffered the same fate as the municipalities of the western Costa del Sol with massive construction.
Because of the special physiognomy of the region where the high mountain slopes reach down to the beach in the form of cliffs, Nature lovers can admire breath-taking scenery and especially practice sports like scuba diving.
1) The landmark of Nerja is undoubtedly the Balcon de Europa, an ancient fortress of the IX century and which is now a viewpoint that, as its name suggests, opens as a balcony over the Mediterranean Sea, with magnificent views of the coast.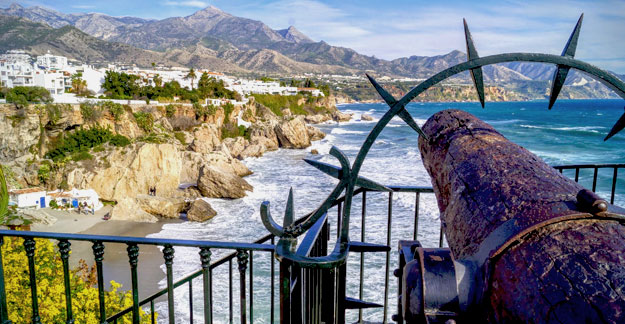 2) You almost have to make no effort to get there, just take a walk and enjoy the beautiful historic centre of Nerja, its narrow streets and white facades and go with the flow.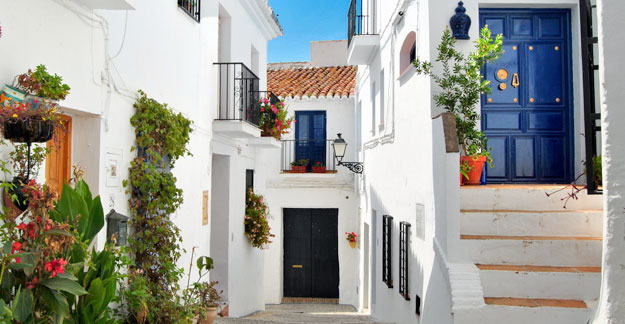 On your stroll through the city you may also find interesting ancient religious buildings as Ermita de las Angustias, a beautiful seventeenth century chapel with Granada frescos or El Salvador Church of the seventeenth century in Baroque-Mudejar style.
3) If you feel like walking a little more (about 4 km one way) you can stroll to the outskirts where is situated Acueducto del Aguila, a nineteenth century aqueduct built to transfer water to the factory in Maro. If you do not feel like walking so far, you can also easily get there by car.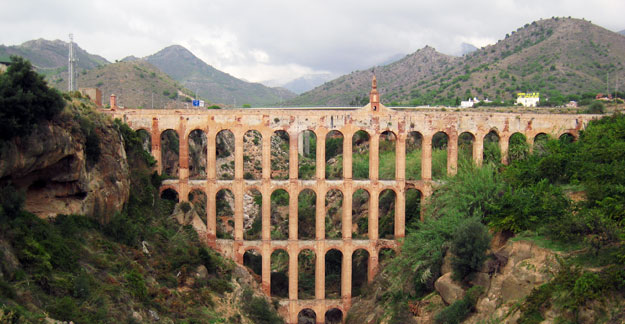 Before proceeding discovering this beautiful town, maybe it's time for some lunch: The rich Gastronomy of Nerja is known for dishes such as Ajo Blanco (cold almond and garlic soup to cool down in summer), all kinds of fresh fish, Migas, and rich cakes and compote you should try during your stay.
You should not miss the extraordinary Natural Areas of Nerja situated only a few kilometres from the centre of the municipality; so if you like walking, you can enjoy a great seaside stroll through this charming area of great landscape value.
4) Very near to Puente del Aguila is situated the Nerja Caves, the so-called "Natural Cathedral of the Costa del Sol" about 200 meters above sea level in Sierra Almijara. The Caves of Nerja are not only famous for its archaeological sites but also for its International Music and Dance Festival that takes place every summer.

5) Finally, about 4 kilometres from Nerja is located the Natural Park of the Cliffs of Maro, with beautiful views, beautiful beaches and a paradise for diving enthusiasts.

You will fall in love with this charming place. Book online your transfer from Malaga airport to Nerja and start planning your perfect holiday.