San Pedro de Alcantara is part of the municipality of Marbella, located south of Puerto Banus and bordering the municipality of Estepona. Due to its proximity to the centre of Marbella, just 10 km away, the district created in the XIX century as an industrial agricultural colony by the Marquis del Duero, today is a prime tourist destination with several luxury estates and two excellent golf courses.
What to See in San Pedro de Alcantara
San Pedro de Alcantara has a total of 5 well-maintained beaches. They are: Cortijo Blanco, El Ancon, Guadalmina San Pedro, Linda Vista and San Pedro de Alcantara. Guadalmina Beach, about 1.5 km long and one of the most luxurious areas of Marbella, also has a nice landscaped promenade.

For golf lovers there are two 18 hole courses, Guadalmina Norte and Guadalmina Sur. Both of them are in the Guadalmina Golf Club, located within the same homonymous urbanization. Therefore, the green is just in the front door of the houses.

Recently has been created a large Park-Boulevard along the main road which traditionally has divided the city between the coastal part and the upper part. These distances are now solved with a spectacular bridge. In addition, the park is very popular with visitors and locals and offers a total of 6 children's areas with many games. There is also an amphitheatre where concerts and performances take place.

From San Pedro begins the route along the A-397 road towards Ronda 47 km away and the beautiful Serrania de Ronda mountain ranges, being the traditional route between Seville and the Costa del Sol.
Almost hidden among the developments there are two Roman vestiges; the III century Roman baths (near the mouth of Guadalmina river) and the Basilica de la Vega from the IV century (in Linda Vista urbanization).
Of past pirate raids on the coast gives evidence the XVI century Watchtower, located at the mouth of the River Guadalmina, a few meters from the Roman Baths.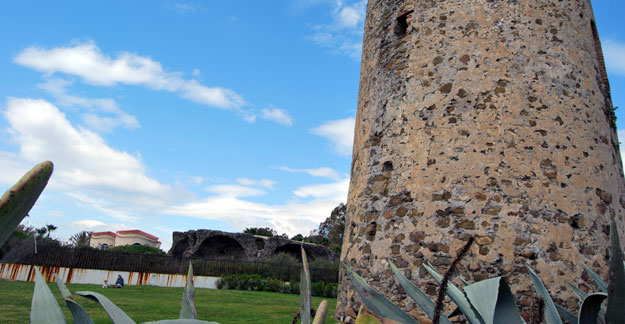 Finally, it is especially remarkable the beautiful colonial style of Villa de San Luis and the nineteenth century Church, both located in the historic centre .