When the good weather arrives you feel like enjoying refreshing places, for this nothing better than visiting some of the fantastic natural pools in Malaga.
Join us on this trip and get ready to enjoy natural surroundings where you can cool off while enjoying spectacular natural scenery.
Turtle Lake in Marbella
Many tourists visit Marbella but are unaware of the natural paradise that surrounds it. Lago de las Tortugas is a beautiful place situated very close to Puerto Banus.
There is a car park and picnic tables under the shade, if you want to spend a picnic day with the family. It is possible to see turtles, fish and ducks in the water. Children will have a great time playing in the water or in the playground.
There is a small, picturesque dock at the site.
Lago de las Tortugas is located near Nueva Andalucía, very close to the AP-7 motorway. To get there you have to head towards Puerto Banus and from there head north; it is about 11 minutes drive from the marina.
Map: https://goo.gl/maps/ZoRLn9iwWHYfdJeS6
Reservoir at El Chorro, Malaga
El Chorro is a tourist destination that attracts for its natural surroundings, and is a favourite place for many lovers of hiking and climbing. If you also want to cool off and spend a day in the water, it can be the ideal place to enjoy a natural swimming pool in Malaga.
You can rent canoes, pedal boats and take part in numerous other activities.
This lake is very close to the Desfiladero de los Gaitanes, the Bobastro ruins and the Caminito del Rey, if you feel like enriching your visit to Ardales.
The route to get there is very beautiful on country roads, if you feel like it we can take you there. The recommended route is along the A-357 road until you reach Ardales; from there take the MA-5403 road to El Chorro.
Map: https://goo.gl/maps/A9jYorjbXfMUMgXa9
Ermita y de la Llana pond in Jimera de Libar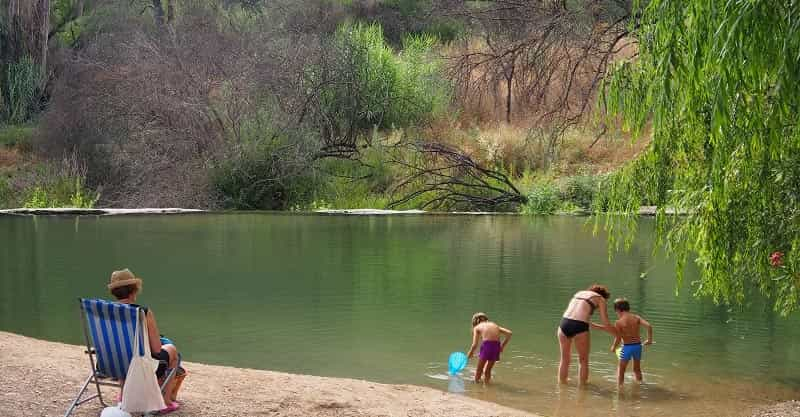 In the municipality of Jimera de Líbar, you will not only have access to beautiful hiking routes but you can also find some places where you can go swimming if the weather is nice.
To get to both, we must first go to Jimera de Líbar:
Charca de la Ermita: Park the vehicle in Jimera de Libar and continue on foot to the other side of the railway track, after the tunnel. The bathing place is situated above the railway station.(Map: https://goo.gl/maps/gtLY6o2GfzCHxQ918)
Charca de la Llana: To get there, turn left after reaching Jimera de Líbar and pass the railway track until river Guadiario; follow the path parallel to the river for about 1 kilometre. There is place to park the car.(Map: https://goo.gl/maps/d9mgrczpCZoR5aQq9)
The bathing area is shallow and has tables and chairs made from logs and rocks for lounging in the shade.
It is a place of special enjoyment for children, although we must keep an eye on them; either by small currents or by a small rope that allows them to swing into the water. If you don't feel like driving, we'll take you there.
Charco de las Viñas in Ojén, near Marbella
Those who visit it highlight the charm of the place and recommend it during the summer, to cool off and spend a nice day. If you are looking for natural pools in Malaga and you are in Marbella, this may probably be one of your first choices.
To get there you must go to Ojén, a charming village near Marbella, which you can visit before or after a refreshing dip in the waters of this Charco de las Viñas pond.
Map: https://goo.gl/maps/kKVhSkTtGLYUQzYQ6
Dique de El Burgo
This dam with irrigation water allows us to enjoy a place to swim, because when we move away from the shore the water is quite deep. It is therefore not recommended for children, unless they are older and can manage well in the water.
There are those who venture to jump off the dyke, a practice we cannot recommend.
To get there we must go to El Burgo, a village in Malaga located on the A-366 road that takes us to Ronda from Malaga. Take the lane signposted to Sierra de las Nieves and Gran Senda for about 2.5 kilometres, until you reach a place where you can leave your car.
Map: https://goo.gl/maps/sxfmFj4M7MRbJeDk6
Duck ford in the Chillar River
This pool is located in a protected area of the Natural Park of Sierras de Tejeda, Almijara and Alhama. Being a well-known tourist attraction in Nerja, it is quite popular during the summer months. Many prefer to visit during the less popular months, or alternatively on a daily day at a time that avoids most of the other hikers.
Between the outward and return journey we will walk a total of about 16 kilometres, so it is not a route recommended for everyone, although it is well worth it if you can manage it. Along the way, you'll be walking along the river itself, with 20-metre-high walls on either side, so it's advisable to wear shoes that are waterproof and that will prevent you from slipping on the rocks, as well as waterproof protection for any electronic devices you might be carrying.
In short, it is a spectacular landscape although it requires some sacrifice and the pool is not large. If you are looking for natural pools in Malaga and you also like hiking, this is a highly recommended place. When it suits you we can take you back home from Nerja if you like.
NEWS: Due the Coronavirus situation bathing is prohibited in the Chillar river along its entire length, including pools, as well as access to it upstream of its confluence with the Higerón river for hiking and other active tourism or educational activities.
Map: https://goo.gl/maps/TXf6E8KMmXx9KFFN7
Charco del Moro pond in Cortés de la Frontera
In the Natural Park of Los Alcornocales, a protected area, is the Charco del Moro. This pool receives water from the Guadiaro River and is located in Cortés de la Frontera.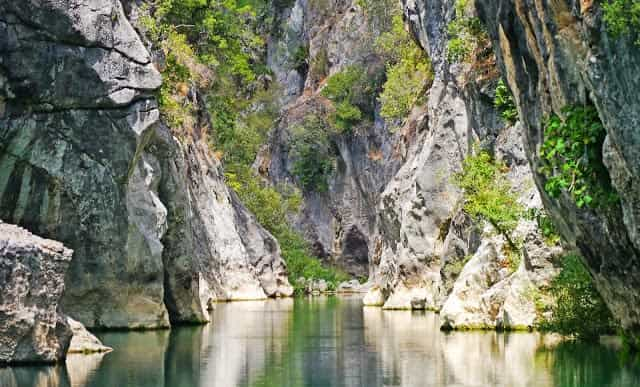 The location of this pool between vertical walls up to 100 metres high is impressive, and even more so as the railway line has managed to adapt to it with a vertiginous layout. A landscape that has taken thousands of years to form and where we will find vultures flying over our heads.
Once we move away from the shore the depth is important, and it also receives a flow of very cold groundwater, which is indicated. Special care should therefore be taken when swimming here, as tiredness and the cold water current could play a dirty trick on us.
To get there, head towards El Colmenar and the Cañón de las Buitreras Natural Monument; or if you prefer, we can take you there and all you have to worry about is enjoying the day.
Map: https://goo.gl/maps/mfsWfaQ5hfqwmJZ69
Pond of Pontón Alto in Tolox
This is a popular swimming area, especially during the summer months. To get there you only have to walk about 1 kilometre along the track, with the Rio Grande river on your left.
In addition to this pool, we will pass by the old ruins of the San Eugenio light factory and other pools where you can enjoy a refreshing swim.
To get there, take the Alozaina direction and from there the Ronda road towards Coín. After the 46th kilometre we will see a turn off onto a track, which we follow and try to park on any widening of the track, reach the pools or go on to the San Augusto light factory, where there is an esplanade where we can leave the car.
The shortest way is from Marbella, although you can easily get there from anywhere in the province. Or if you prefer, we can take you there and bring you back when it suits you best.
Map: https://goo.gl/maps/YNMV4hqjXDN8Vfrm8
These and many more natural pools in Malaga
We can take you anywhere you choose, the possibilities are endless in Malaga:
You can discover many more incredible places and natural environments in Malaga: https://www.malaga.es/en/turismo/naturaleza/tp-53/ds-0/nature
There are many more natural pools in Malaga, if you share this article we will keep updating it with more places to visit.
Other natural swimming pools near Malaga in Andalusia
If you feel like exploring further away and you do not have enough with the natural pools in Malaga, we suggest other places where you can swim and enjoy the wonderful scenery of Andalusia. If you're up for it, we'll provide you with transport.
Natural pool of Trevelez in Granada
Natural pool of Bolonia in Cádiz
Don't forget that we can take you wherever you choose, just contact us or book a transfer. We have vehicles adapted to all space requirements.