Marbella Guide
---
Marbella is one of the largest cities in the province of Malaga, also comprising other areas as Elviria, Calahonda or Cabopino.
The city is only half an hour's drive from Malaga airport and is one of the favourite destinations for many tourists who visit Malaga throughout the year.
When we talk about Marbella, we are referring to a cosmopolitan city, internationally known for being the favourite destination of many celebrities from the entertainment world. Puerto Banús, Marbella's marina, is one of the places everyone wants to visit, where the rich and famous gather both during the day and at night.
If you're not on a budget and want to experience all that Marbella has to offer, you may want to stay on the Golden Mile in Nueva Andalucía, a place that is prohibitively expensive for the average person. But Marbella offers much more than luxury, it is accessible to any tourist who wants to explore its beaches and tourist attractions. We encourage you to come and visit it and stay in one of its great hotels. We can take you to and from the airport so you don't have to worry about anything else.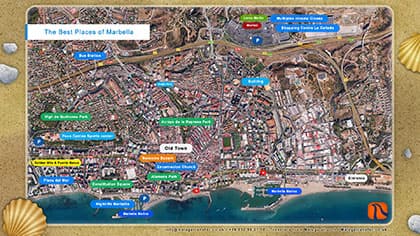 In general in this link we talk about the town. However, at the links below you have access to more detailed information on the various places to see in Marbella and the most interesting activities available.
(Click on the image to view full size)
---
What to do and see in Marbella?
Golf courses
Know the closest and best golf courses of Marbella.
Cinemas
Know where you can go to the cinema to see a film in and around Marbella.
Museums and monuments
The city has some cultural spaces you can visit whenever you want.
Shopping
Marbella is a great place for shopping and here we tell you where to find the best shops and shopping centres.
Shopping Mall La Cañada
The La Canada shopping complex is huge and here we provide information about the most outstanding restaurants and shops.
Restaurants
In our Marbella restaurants page there is only room for the best restaurants; take note of these if you want to enjoy a nice lunch or dinner.
Marbella Beaches
A simple guide to the beaches of the city and surroundings like the beaches of Calahonda and Cabopino.
Marbella Marinas
In addition to Puerto Banus, Marbella has more marinas, including for example Cabopino.
Nightlife
Where is a good nightlife? Know the fashionable clubs and pubs of Marbella.
Parking
Parking areas of Marbella.
Bus station
Find out more about possible destinations from the bus station in Marbella.
Hotels
Know the top 10 hotels located within the city.
City map
We provide a map where you can easily find the most relevant places of the city.

Private taxis
We recommend information about our transfer services, if you want to go to Marbella from Malaga airport, from Malaga city or from any other point of Malaga province.
How to get to Marbella from Malaga airport?
---
Here we explain in detail the route to follow when driving from the airport to Marbella.