Discover the best places to enjoy the night in Marbella
---
Where to go for a drink in Marbella?
Marbella is well known for its nightlife and is famous for having good pubs and nightclubs to go for drinks, dance and meet new people. Regarding nightlife, Marbella can be divided into two zones, the pubs and clubs in the Marina in the centre of Marbella and those located in Puerto Banus, 7 kilometres from downtown.
Not in vain we have to mention the discos Olivia Valere and Funky Buddha, both located halfway between downtown Marbella and Puerto Banus.
Transfers for nights out
Malaga Transfer guarantees the best means of transportation for nights out on the Costa del Sol. A transfer tailored to your needs picking you up at your hotel and taking you to the bars and clubs you want to go. Later in the evening at the agreed time and place, your driver will wait patiently to go bring you back to the hotel.

Terrace / Disco Lemmon
---
Lemmon is one of the most popular nightclubs in the Marina of Marbella at nights during weekends, but you can usually enjoy a drink during the week from afternoon.
Lemon's strong point is that it has a pretty large terrace where to have a drink and chat with your companions and also has its own dance club room with a VIP area.
Terrace / disco LeSub
---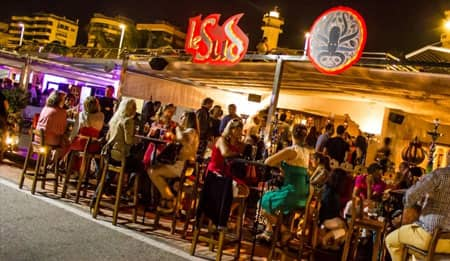 LeSub is situated next to Lemmon and is another of the main places for going out in Marbella. It has a terrace and inside an elongated dance floor area. Good music and excellent atmosphere make that LeSub has large audience during the nights of the weekend, being one of the most recommended places at the Marina of Marbella.
Terraces and clubs to enjoy a drink in the port of Marbella
---
The disco Sunset is another of the outstanding options in the Marina if you want to dance during the night in Marbella. However, in the Marina of Marbella are available a multitude of terraces where you can go for drinks, all beautifully decorated with comfortable sofas and excellent customer service.

Disco Buddha Downtown Marbella
The Buddha club is not located in the port but in the Alameda Park to the east. At any rate it's no more than 300 meters away. Normally they charge an entrance fee of 10 euros which includes a drink. The place is nicely decorated, spacious, with VIP areas and a very long bar where the staff will attend you. The music is good as well as the atmosphere.

Disco Rosé Marbella
Rosé nightclub is more hidden as it is located in Calle Ramon Gomez de la Serna, a little less than a kilometre northwest from the Marina of Marbella. The atmosphere and music in the Club are very good and it's well worth dropping by here.
More places for a night out in Puerto Banus
Another area of Marbella where you can go out at night is Puerto Banus. At the seafront and around are available a lot of bars, pubs and nightclubs to enjoy the nightlife in Marbella. Of course, in Puerto Banus the price for admission to the clubs soars, along with the price of drinks. You should be considering this detail.