Restaurants and Fast Food at Malaga Airport
---
On this page we provide a list of restaurants and fast food you can find in Malaga Airport, also providing information on the exact location within the Terminal 3 or Teminal 2. Learn more information with our website of bars at the airport.
Cafe & Tapas
---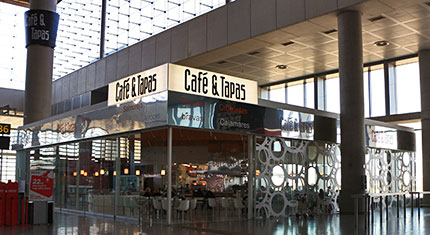 You can find Cafe & Tapas in the public area of Terminal 3 to enjoy cuisine ranging from new cuisine to traditional dishes. The restaurant is large and can serve fifty guests and 30 others in the bar.
Gambrinus
---
In the open public area of Terminal 3 you have at your disposal the Gambrinus brewery which is closely linked to the brewery Cruzcampo. Gambrinus is renowned for its tapas and beer atmosphere and because each Gambrinus establishment has details that make it unique.
Vips
---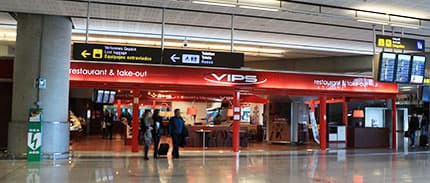 On P0 of the public area of Terminal 3 is available an establishment of the franchise Vips. A warm and friendly restaurant that offers customers quality and variety of sandwiches and salads, among other delicacies.
Dani Garcia Delibar
---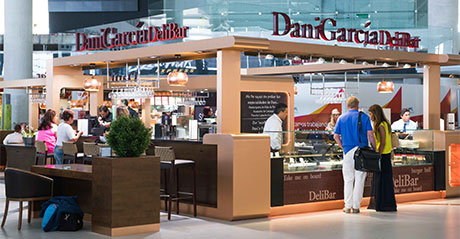 Once inside the exclusive area of passenger Terminal 3 you can taste the delicious dishes of Chef Dani Garcia from Marbella who has to his credit several Michelin stars which ensure high quality cuisine.
Dehesa Santa Maria
---
Located in the exclusive area of the passenger terminal T3, the Dehesa Santa Maria Restaurant offers guests cuisine oriented in Iberian tapas and quality products such as Iberian ham and artisan cheeses, plus fine wines and homemade desserts.
Mum's Kitchen
---
This establishment features a new and modern self-service restaurant offering a varied and tasty cuisine for all tastes. Mum's Kitchen is located on the 1st floor of the exclusive T3 passenger area.
O'Learys
---
O'Learys offers a menu with dishes of grilled meats, sandwiches, salads, and more products with the characteristic style of O'Learys in a sporty and young atmosphere. This restaurant is located inside Terminal 3 in the area accessible only to passengers.
Sea Food
---
The Sea Food Restaurant, also located in the area for passengers T3, ensures a more sophisticated cuisine with delicacies such as smoked salmon Balik, fresh Prunier caviar or Foie gras, among many other delights.
Burger King
---
In the exclusive passengers area on the second floor of Terminal 3 is situated the famous fast food franchise Burger King with burgers, salads, desserts and other products at a cheaper price.
Whopper Bar
---
The Burger King Franchise has another establishment dedicated especially to his Whopper, which can be enjoyed in many variants with different sauces and toppings. The Whopper Bar is located in the public part of the T3 Terminal.