If you are planning to visit La Herradura in Almuñecar, Granada, you may find our article on essential places not to miss and other things to do useful. This municipality of Almuñecar has a long history dating back to prehistoric times, so there is plenty to see and do. It is a region rich in culture and activities, very close to Malaga and we can take you there whenever you want.

Discovering La Herradura
La Herradura, with a name of Castilian origin that comes from the shape of its bay, is a locality of Almuñecar in Granada, quite popular during the summer season. It is located next to the town of Maro in Nerja, also near the Sierra de Almijara; the place stands out for its vegetation and unspoilt coastal areas. It is a particularly suitable destination for diving enthusiasts, due to the corals and endangered species that can be found under the waters of its coast.
Urbanisations in La Herradura
The urbanisations are usually located in sparsely populated areas, surrounded by a natural and peaceful environment, very close to the coast and to many tourist attractions, as we will see below.
Cantarriján
Los Cármenes del Mar
Cerro Gordo
Los Corrales
La Cuesta del Marchante
El Enclave
La Marina del Este
Mezquita
El Nogal
Las Palomas
Peña Parda
Punta de la Mona
San Antonio
San Nicolás
Las Terrazas
If you don't live in one of the urbanisations of La Herradura, you may be interested in camping. There are two main campsites in the area with access to the beach:
Beaches in La Herradura
The beaches stand out for their natural environment and with a treasure of corals and protected species under its waters. They are usually quiet places where you can spend a great day at the beach or snorkelling.
Cantarriján beach
Surrounded by the cliffs of Maro / Cerro Gordo we find the beach of Cantarriján. A popular nudist beach that is among the best rated in the country. It is a family beach and the nudist only area is at one end.
Calaiza beach
Within the Cerro Gordo Nature Reserve we find Calaiza Beach. Its access is not visible so it is one of the quietest and least busy beaches in the area, ideal for those looking for a place to rest.
La Herradura beach
Many consider La Herradura Beach to be the best in the whole province. Both for the natural environment that surrounds it and for the amount of services it offers, although if you are looking for a quiet beach during the summer, there are many other options that may be of interest to you, but with a more complicated access.
It is 40 metres wide and its sand is a mixture of gravel and dark sand; with a promenade and is very busy during the summer. It can be accessed on foot, by car or by boat.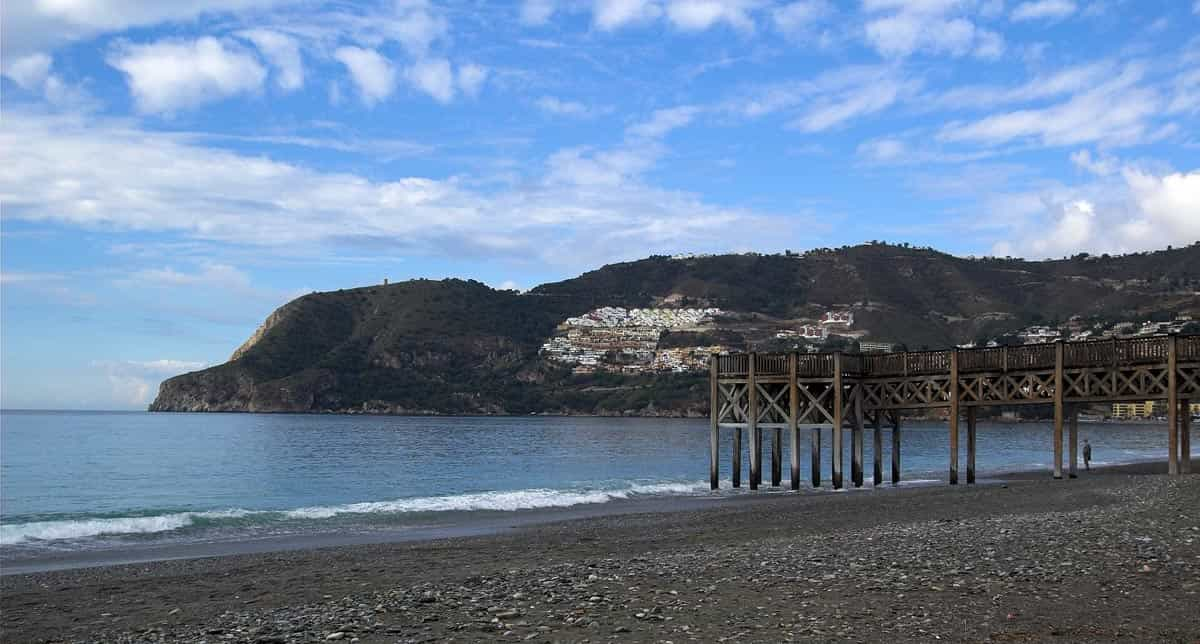 La Playilla
Visitors describe it as a paradisiacal beach with a wide variety of underwater fauna.  It is easy to access and its crystalline waters are just next to La Herradura beach.
Marina del Este beach
One of the favourite beaches for divers, who can be seen at the car park with all their equipment. It is a popular beach in summer and is very close to the marina, where there is a diving equipment rental service and instructors.
More than 10 things to do and places to visit
The area of La Herradura, being set in a natural environment of great value, offers us a multitude of places to visit. Let's get to know a few of these places so that when we take you to visit La Herradura, you know exactly where you want to go.
Las Palomas Cave
Do you like the beach and water sports? Then you should visit the Cueva de las Palomas, accessible by kayak as you have to reach it by water. Located south of the cliffs of the Natural Park of Cerro Gordo we find this opening of about 15 metres high and 4 metres wide in which you can enter up to 8 metres above the sea level.
It is undoubtedly a spectacle in turquoise waters that you should not miss. If you need to rent a kayak or want to take part in adventure activities, you can visit Nimo Aventura.
Location: https://goo.gl/maps/Pa5ph2r4vC8GAovLA
Watchtower and Cerro Gordo Viewpoint
The Cerro Gordo Watchtower is located in a natural setting with beautiful views of the unspoilt beaches that surround it. Built during the 16th century to defend the local population from possible attacks, it forms part of a group of towers that can be found all along the coast and which communicated with each other by means of the smoke produced by bonfires that they lit when they detected invaders.
It is recommended to visit it at sunset, for the breathtaking views from the site.
Location: https://goo.gl/maps/RK4rcUkGKtvTn5iD7 , https://goo.gl/maps/tMc74pAydQmr85C67 and  https://goo.gl/maps/JooMp41URqV4SEwv7.
La Herradura Castle
This fortification is in a good state of preservation and is also a museum. In the past it was used as a barracks and defensive fortress against invasions by sea, and its cannons still remain pointing towards the coast, waiting for a pirate incursion that will never come again.
It was built during the 18th century because of constant pirate raids and housed about 27 people, including the chaplain. It was in use from its construction around 1765 until 2003. Finally it was decided to restore it while maintaining its original spirit.
Opening hours: From 9:30 am to 1:30 pm and from 5:30 pm to 8:30 pm. Closed on Tuesdays.
Location: https://goo.gl/maps/JpyVyUvpmqLf3bgj7
Lighthouse of La Herradura
Just 2 kilometres from the castle of La Herradura we find this lighthouse, also known as Faro de Punta de Mona, due to its location. Although if we visit it we will notice that the construction is not very old, it is based on a historical base of great historical value. In this same place there was a Muslim defensive tower on top of which the current one was built, dating from the 18th century.
Location: https://goo.gl/maps/T5w8bqZeDuK7Xt6U6
The Hermitage of Punta de la Mona
Very close to the lighthouse, in case you visit it, is the Hermitage, from where you can see the lighthouse of La Herradura. From here we have wonderful panoramic views of Almuñecar and we can see as far as Nerja to the west and Motril or Salobreña to the east.
Location: https://goo.gl/maps/xdzshoKjjmrZDYTE8
Marina Del Este Yacht Harbour
The marina is a quiet place during the low season and is one of the starting points for many looking for adventures under the sea. From here you can rent diving equipment or a boat to sail along the coast of Granada.
It is a charming place with restaurants that are open late into the night, in case you feel like having dinner in front of the sea in Almuñecar. At weekends it is often difficult to park in the area, so if you like we can give you a lift.
Location: https://g.page/marinadleste?share
Iron Flower
This metal monument, more than 35 years old, is a symbol of the town and provides access to Punta de la Mona.
Location: https://goo.gl/maps/3K3xhhwd2xw9Um9s7
Peñon del Lobo viewpoint
From this viewpoint you can enjoy stunning views of Puerto de la Herradura, both during the day and at night. If you want to take a great photograph, visit this place during the full moon. It forms part of a hiking route, of which there are many in this area of Almuñecar.
Location: https://goo.gl/maps/8AoN9s1eCEUNQfVd7
Diving in la Herradura
As we have already mentioned, La Herradura is a paradise for diving. There are numerous places that offer all the necessary equipment to spend a day under its turquoise waters and discover its seabed.
Among the most outstanding places to dive we find:
If you need diving equipment or you want to go with instructors to the main dive sites in La Herradura, you can take a look at the following resources: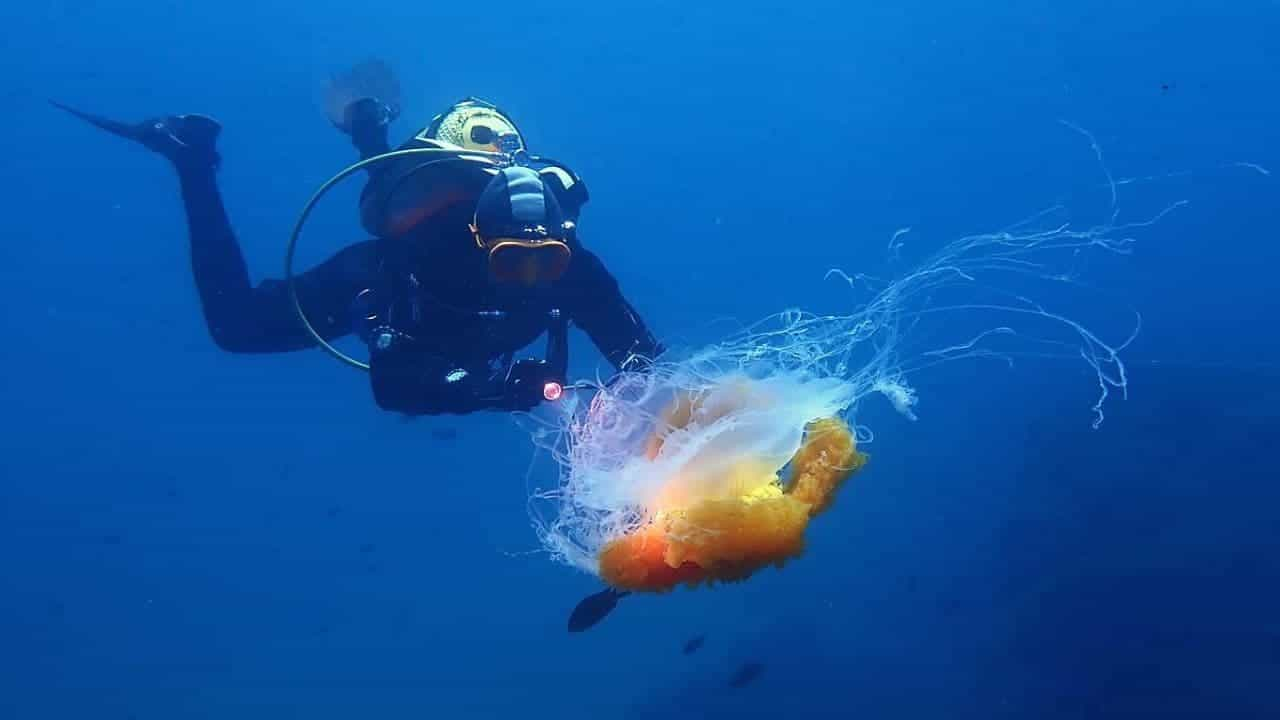 Hiking in La Herradura
There is no doubt that this natural environment has a lot to offer for the hiking enthusiast. You will find numerous trails that offer spectacular views of the entire area, both from the west and the east.
Promenade: With a length of 6.42 km, it is an easy walk with no gradient for everyone. Along this route we will get to know the coast of La Herradura. We can eat in any of the restaurants and beach bars that we will find along it. The estimated time is just over 1 hour at a good pace, with children it can take up to 2 hours.
Cerro Gordo Watchtower Trail: In the places to visit we have recommended the Cerro Gordo Tower. We can start the route where the Mirador de Cerro Gordo Restaurant is located and continue on foot until we reach the tower 1 kilometre away. https://goo.gl/maps/SLvYgFN2qKN6mzJh8
Hermitage, Mona Lighthouse and Punta de la Mona: We can start this route from the hermitage, pass by the lighthouse and reach Punta de la Mona. An easy route that takes just under an hour.. https://goo.gl/maps/xdzshoKjjmrZDYTE8
There are many more hiking routes that we encourage you to discover, from the Peñón del Lobo viewpoint to the cliffs of Cerro Gordo.
Fancy a film in a summer cinema?
Finally, in La Herradura there is also an open air cinema for for watching films at night, if you feel like doing something different.
Location: https://goo.gl/maps/kcWX8bo8VFbUrFo36
Transfer to La Herradura in Almuñecar
We can take you with our transfer service to La Herradura, where you can spend the day and bring you back if you want.
We also offer a Malaga airport transfers to Las Palomas, or any other urbanisation in La Herradura where you are staying. Are you up for discovering a wonderful destination like La Herradura? You can book in advance and pay on arrival, this way you can be sure that we will be available the day you need us.