December arrives in Malaga with Christmas and many other typical activities that only take place during this month throughout the year. Would you like to go to Christmas markets, see the Christmas lights or enjoy a unique atmosphere in our province? Then you should visit us, you will live a unique experience and we are sure you will enjoy it.
December in Malaga is still an attractive month to come, not only for winter activities but also for many others. The weather in Malaga is usually good during this month, so you will be able to do almost anything you want to do.
And if you need any more convincing, the travel website 'European Best Destinations' has selected Malaga as one of the top 20 destinations to visit in December, being the most recommended destination in Spain by tourists who have visited it.
Is it a good idea to visit Malaga in December and Christmas?
December in Malaga will be cheaper than visiting us during the summer, so you will be able to spend more days on holiday. Malaga in December still enjoys sunny days and a mild climate, nothing to do with the north of the peninsula and even less with the north of Europe. If you want to spend little money or if you want to know how Christmas is celebrated in Malaga, this is definitely a golden opportunity to visit us.
Do you have any doubts? Keep reading, we hope you'll be encouraged to experience Christmas in Malaga personally. As a foretaste you can visit museums, shop at Christmas markets that are only active during this month, see the Christmas lights, go hiking or taste the rich gastronomy of our villages.
Weather in Malaga in December
The temperature is good during the month of December and it is not a rainy month, so you will be able to enjoy your visit and do many activities. There is not much difference compared to November in Malaga, the sun is still shining brightly during the day reaching 17ºC, while during the early morning the temperature can drop to 11ºC.
December is not a rainy month, the average of the last years tells us that it can rain about 5 days.
Beach in December
Some people wonder if you can go to the beach in December, the answer is that you can if you like to enjoy a day in the sun. If you like the beach and swiming, the ideal time to visit Malaga is in August; July or June are also equally good and quieter options.
If you are still wondering about going to the beach and going for a swim, we will inform you about the water temperature so that you can decide for yourself. There are people who swim in the sea almost every day of the year, but it is not the norm.
In December the water temperature is between 15ºC and 17,6ºC. Of course the water will be cold, but it won't give you hypothermia and if you wish you could even swim for hours.
Recommended clothes
The clothing you should bring is a very personal thing, as it depends on your tolerance to the weather. We'll give you some ideas, however, in case you want to keep them in mind.
If you are planning to go to the Sierra Nevada, don't forget sun cream.
Sunglasses, as the sun is still shining brightly during the day.
Light clothing for the day, but also some warm clothes for the evening or if one day it gets cloudy.
Sunrise and sunset in December
If you want to make plans, it is good to know when the sun rises in December or when the sun sets. In December there are fewer daylight hours and it is already convenient to take some warm clothes at sunset.
In early December the sun rises at around 8:20 and begins to set at 5:48 p.m.; the length of the day is almost 9.5 hours. At the end of December the sun rises at 8:38 and sets from 5:57 p.m. onwards, so the length of the day is shortened to 9 hours and 18 minutes.
We are available 24 hours a day, so you don't have to worry about arrival or departure times if you plan to go on an excursion. However, we recommend that you book in advance to ensure availability of transport.
Play golf in December in Malaga
The good thing about Malaga and the Costa del Sol for golf lovers is that they can play golf practically any day of the year. The weather is good and it is rare that the sun does not shine in the morning.
If you like golf and you want to adjust your budget as much as possible, don't hesitate and come to Malaga in December.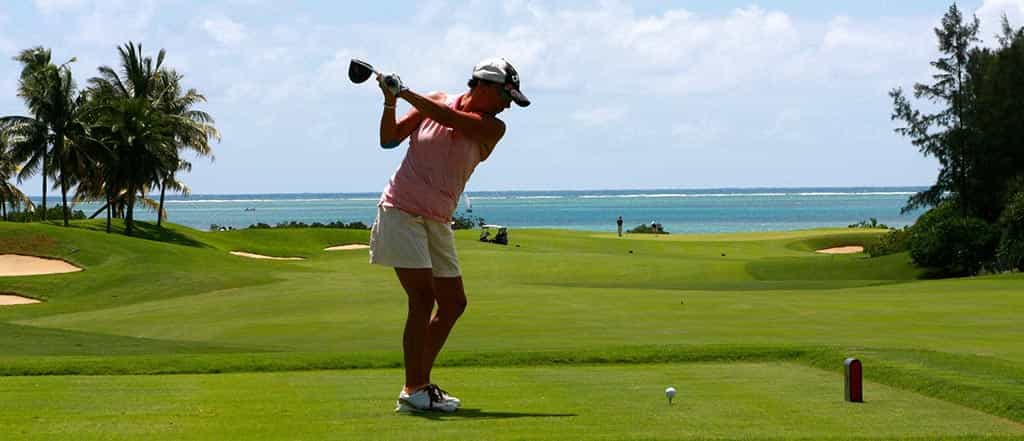 Recommended places to stay if you want to play golf:
Christmas activities in Malaga
If throughout the year there are numerous activities you can do, during December there are even more. As we immerse ourselves in the city we will find many activities during Christmas in Malaga. We can tell you in advance that you won't get bored; from Christmas lights, to markets, Christmas crib and many other activities that you will only find during December in Malaga.
Christmas lighting in Malaga
Malaga's Christmas lighting is considered one of the best in Europe, being Malaga one of the 20 most recommended destinations to visit during these dates.
The Christmas lighting of the main municipalities starts at the end of November or early December. In Calle Larios this year it starts on 26 November; there will be music and light shows from 6.30 p.m. onwards, although no more specific timetable has been set.
Location: Calle Larios (Map)
When: 26 November until 5 January.
Christmas Markets
Christmas markets are another of the most popular places to visit in the province. In the centre of Malaga you can find it at Plaza de la Marina and it offers everything from handmade products to chocolate with churros, making it an ideal place to visit.
Another recommended Christmas market, considered to be one of the best in Spain, is the one located in Muelle Uno.
As well as in the centre of Malaga, you can find street markets in the main squares of other towns. Torremolinos, Fuengirola, Marbella…
New Year's Eve party in Malaga
The New Year's Eve party in Malaga is celebrated in the main squares of all the municipalities. In Malaga every year it takes place in the Plaza de la Constitución, with a big party and the so-called "bolsas de cotillones". There are usually concerts and lots of people ready to have a good time.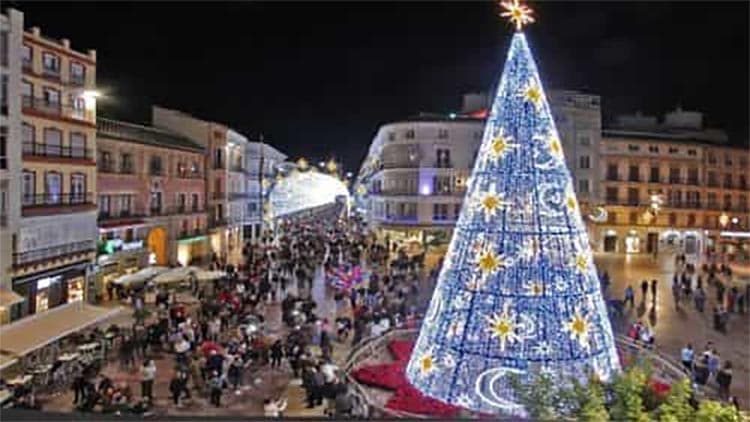 Location: Plaza de la Constitución (Map)
When: Night of 31st of December.
Sabor a Málaga gastronomic fair
As every year, this gastronomic fair takes place with products from our region.
Location: Paseo del Parque
When: Between 4 and 8 December, from 10 am to 9 pm.
Christmas Garden in the Botanical Garden
Step into this wonderful fairytale with Christmas lights and illuminated figures along an approximately 2-kilometre walk.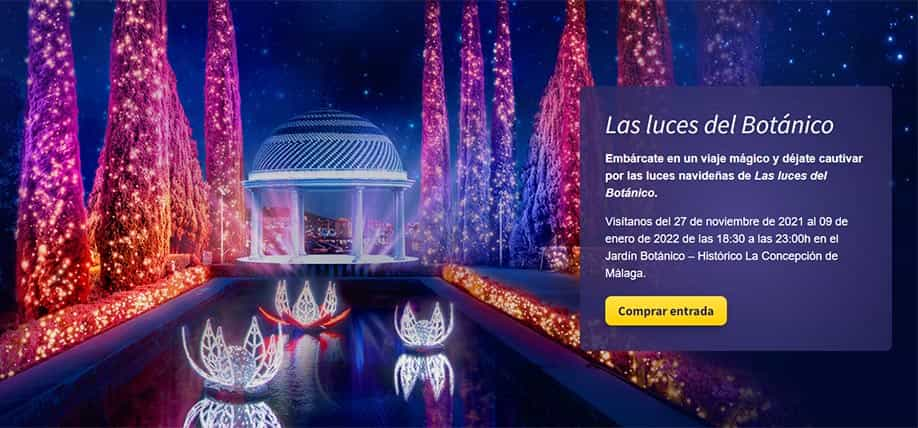 To get there they recommend using public transport, as parking is limited. If you want we can drop you off and pick you up whenever you need, you only need to make a reservation without paying in advance.
Location: Jardín Botánico de la Concepción in Malaga. (Map)
When: From 27 November to 09 January 2022. From 6:30 p.m. to 11 p.m.
Transport in December in Malaga
We remind you that we offer transfers from Malaga airport, but also transport service to go out at night, to go out for dinner or to make a tourist visit to any place in Andalusia.
We are available every day in December; if you need a means of transport for Christmas or New Year's Eve, please do not hesitate to contact us or book online.