Each destination we visit has its own particularities, and often depending on where we go it is better to go during one time of the year or another. Which time is the best to visit Malaga? We will try to answer this question, analysing all the months, both high season and intermediate or low season. We hope that with this small guide you will have a better idea of when to visit Malaga.
It is not a simple question, there are those who prefer a calm environment or those who are looking for a festive atmosphere in which they can go out every night and have a good time. Therefore, the question of which is the best month to visit Malaga has a very personal answer that only you can come up with, but we are going to help you decide.
There are concerts, events and activities all year round; no matter what month you decide to come you'll always find something to do.
Visiting Malaga in high season
Where do we start? Most people prefer the high season; heat, beach and party every night; this is something that happens during the months of June, July and August, but with variations. These three months have their differences; depending on which one you come, you're going to find a very different atmosphere.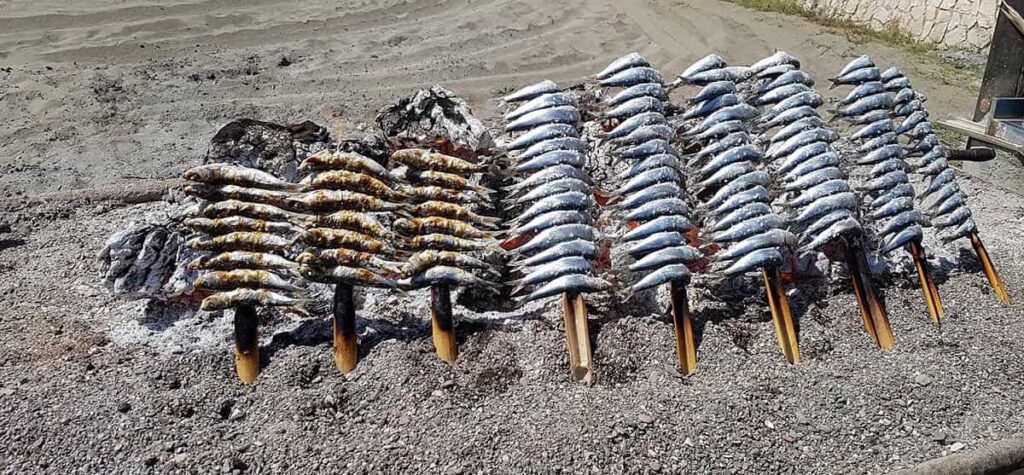 On what to bring to enjoy both day and night, we will discuss this in depth in articles dedicated to each month. If you can't find it, you can ask and we'll help you pack your suitcase.
The high season usually allows us to be in short sleeves during any time of the day at sea level.
June
June is a very festive month, in addition to the fairs that we find in different municipalities. There are several important events such as the Fiesta de San Juan, which celebrates the arrival of summer.
The temperature during June is average, but not as high as in July, let alone in August. It is therefore a pleasant month in terms of temperature and rainfall. The water on the beach has a lower temperature than in the following months, but swimming is pleasant and it is possible to stay in the water once our body has adapted.
June is perfect for discovering Malaga, its villages and culture, interspersed with days of beach and relaxation. If you like playing golf, hiking along rivers or enjoying the natural pools, this is one of the best months.
July
The festive atmosphere continues, you can still visit fairs or attend live concerts. Popular fairs are the Feria de Estepona or the sea procession of Virgen del Carmen in La Carihuela, Torremolinos.
The temperature begins to rise, there will be days when the thermometer will exceed 40ºC due to the Terral; an atmospheric phenomenon in which the temperature rises. This temperature increase comes from the north due to high pressure and pushes the warm surface water mass out to sea, which causes a significant drop in sea temperature. The extreme heat usually lasts 2 or 3 days and as quickly as it arrives it is gone.
July in Malaga is perfect to enjoy the beach or the swimming pool, especially if you get a few hot days. Luckily these days are short-lived and you can still get to know the province and some of the inland villages without getting too hot.
August
This is the most popular month of all, so prices go up. In mid-August the popular Feria de Málaga takes place; an event for both adults and children that you shouldn't miss if you've never visited. During the day you'll find the fun in the city centre; at nightfall it moves to the fairgrounds where you'll find the amusement rides.
If in June and July the number of visitors increases, in August is practically impossible not to meet other tourists; even more so if you are near the coast.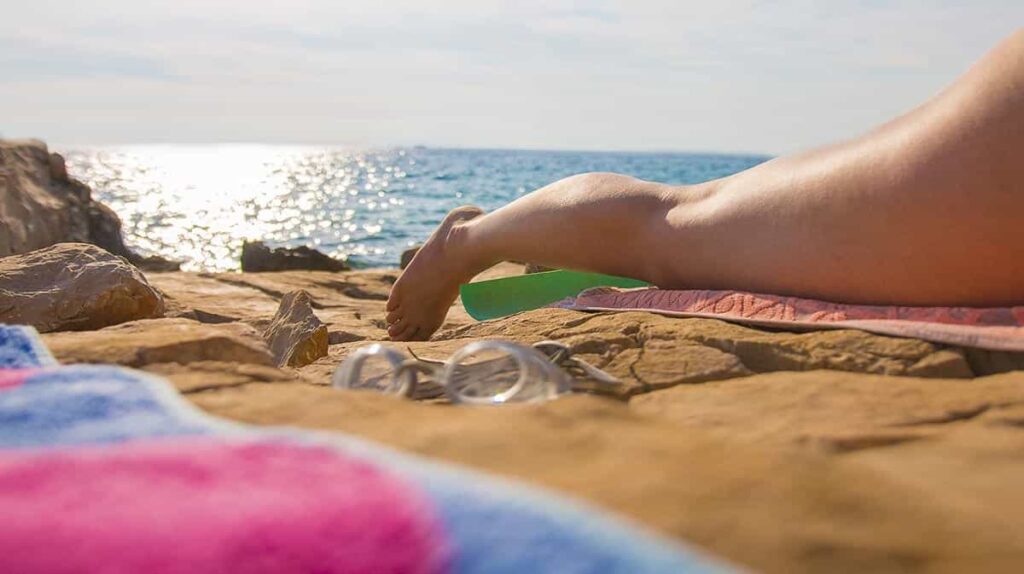 Do you like the night and a temperature that invites you to bathe 24 hours a day? Then August is the month to visit Malaga.
The Terral days still happen in August but the water doesn't get so cold anymore and the bathing is very pleasant. The beaches are full of people sunbathing or practising water sports. Do you like summer? Malaga in August is all about summer and fun.
Visiting Malaga in mid-season
The middle season includes months that are not as popular as the summer months, but are very interesting for a large number of people. It is characterised by pleasant temperatures and many activities.
It is for many the best months to visit Malaga; although finally and as we commented at the beginning of this article, the answer to such an important question is very personal. Let's find out more about what it's like to visit Malaga during these months.
September
For many people September means the end of the holidays and a return to routine, but not everyone does. More and more people are booking their holidays to Malaga in September and if you ask them, they would not change it.
Reasons to visit Malaga in September? The temperature is pleasant, the heat of August has largely dissipated and the crowds have returned to their routine. September is the halfway point of the summer and you can do everything from going to the beach to hiking, playing sports or discovering the interior of the province.
If you like to enjoy the good weather and avoid the crowds, this is a month that might interest you. It is also possible to find some bargains and prices are starting to go down. Among the festivals or events that you can find we recommend you to visit the Torremolinos Fair or the Luna Mora de Guaro.
October and November
The arrival of autumn in Malaga continues to bring tourists. There are those who reserve their holidays for when the summer is over. October and November are still months during which you can go to the beach and even go swimming; the water temperature begins to drop considerably although it is hot outside.
It is not common to see locals bathing on the beach in October or November, although you will see other tourists who are used to cooler temperatures.
Perfect activities to do during the autumn are hiking routes, visiting inland villages, activities such as Halloween or fairs such as the one in San Pedro de Alcántara.
March, April and May
From the end of February the temperature rises. During the month of March people not only start to sunbathe, but also go swimming in the sea.
If you're looking for partying and fun at night, these are not the best months, so book for August. If you are looking to enjoy cultural events such as Semana Santa or to get to know the interior of the province, then you may be interested in coming to Malaga in March, April or May.
Spring arrives with a beautiful flowering that can be enjoyed on any of the many hiking routes in the province.
Even if the weather is good, it can still rain a few days a month, but nothing significant.
Visiting Malaga in low season
Is there a low season in Malaga? We thought we would never get here, but indeed there is a low season with lower prices to enjoy a well-deserved holiday.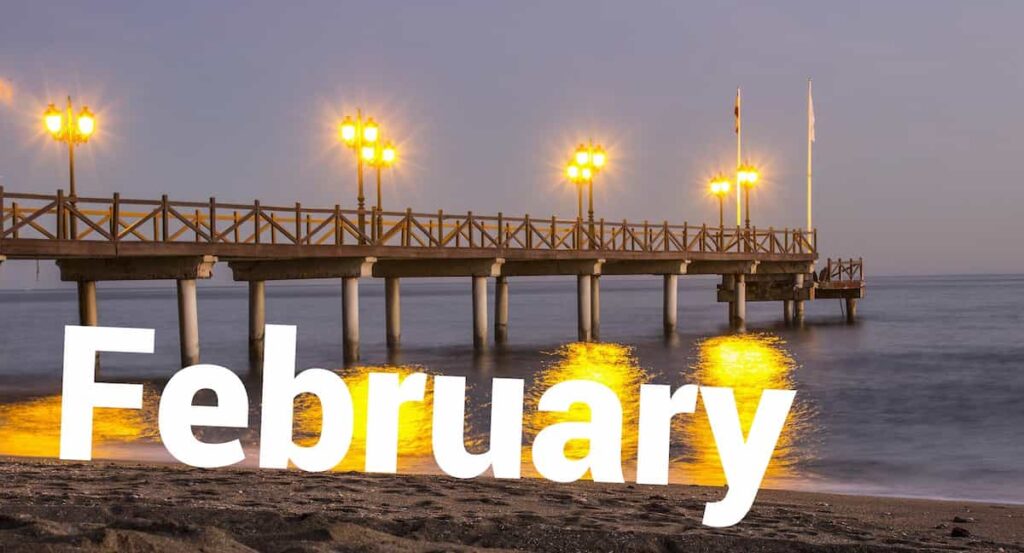 December, January and February are some of the months when there are fewer tourists, which makes the atmosphere more authentic for visitors from abroad.
The low temperatures become more and more prevalent from January onwards. They will not last long and will not prevent us from enjoying the many activities and places. Very popular is Christmas in Malaga and the switching on of the lights in Calle Larios in late November; during December it spreads to all the municipalities of the province and the so-called Christmas markets begin to appear.
Winter in Malaga is special, the Christmas markets with typical products from our region will awake the interest and the palate of those who visit them. Don't forget to wander around the Plaza de la Marina at Christmas time or the centre of any town in late December; the illumination and the small stalls will undoubtedly capture your attention.
If you like skiing, you might be interested in visiting Sierra Nevada, we can take you there. The cold weather has brought snow to the highest peaks and it is possible to enjoy a snowy day just a few hours by car from Malaga.
The rain is making an appearance these months; now it is possible that more than one day will be cloudy. It is not something that will prevent us from enjoying our holidays, but sometimes we might need an umbrella.
But then what is the best time to visit Malaga?
Still not sure about the best time to visit Malaga? Well, if we put everything on a scale, we dare to confirm that almost any month of the mid-season is good, especially September. But this is very personal, if you don't want to step on the beach at all and the temperature doesn't matter to you because what you want is to enjoy the gastronomy of the villages and our culture, then December may sound ideal for your plans.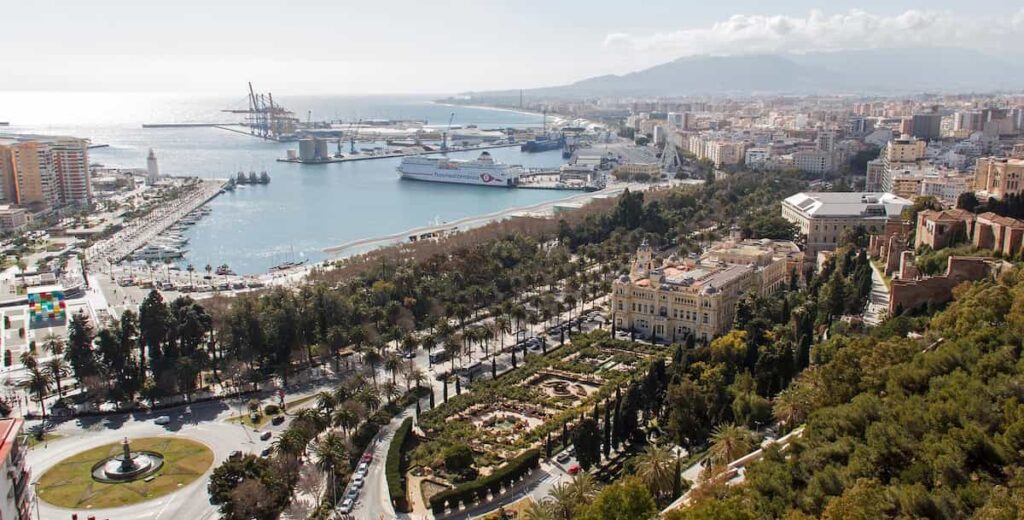 If you want something balanced, crowded but not overcrowded and hot but not too hot, June should also be a good option.
Do you like Easter? Then March and April should be on your list.
As you can see, there is no absolute answer to tell us when it is best to visit Malaga. In the end it will depend on each of you and your motivations. No matter when you want to come and visit us; we take care of your transport any day of the year, deal?