Do you want to know the most amazing water parks in Malaga? We'll take you there. They are fun places no matter what age you are. Slide down the big slides into the pool or enjoy like a child in the wave pool, these are activities where we will have a great time and we can take you there.
All water parks usually have special offers if you book online, or if you go after a certain time in the afternoon. Inside you will find places to eat with something to suit all tastes.
Each water park in Malaga has particularities that make them different from the others, so if you would like to enjoy a fun day in the water and you are going to be in Malaga this summer, keep reading. Let's have a good time!
Do you prefer sea water? There are also floating parks on the sea near the shore.
Are the water parks in Malaga safe?
Before we dive into Amusement Parks, we would like to clarify that all the places we recommend in this article comply with the sanitary measures to avoid the spread of Covid-19. These measures include cleaning of common elements and capacity control, among others.
There are also lifeguards on hand to look out for any problems that may occur. Young children require the presence of an adult at all times.
You can enjoy with total peace of mind in any of these water parks in Malaga. And now, let's continue with refreshing information for this summer.
Aqualand Torremolinos
The closest water park to Malaga Airport is in Torremolinos.
Aqualand Torremolinos offers fun for the whole family with a wide variety of water attractions including slides, wave pools and attractions for children among many others. It is one of the water parks in Malaga with the largest number of attractions.
Don't forget your sun cream, unless you're in a parasol under a hammock all day, you're going to need it to avoid getting sunburnt while you try all the activities this park has to offer.
Water atracctions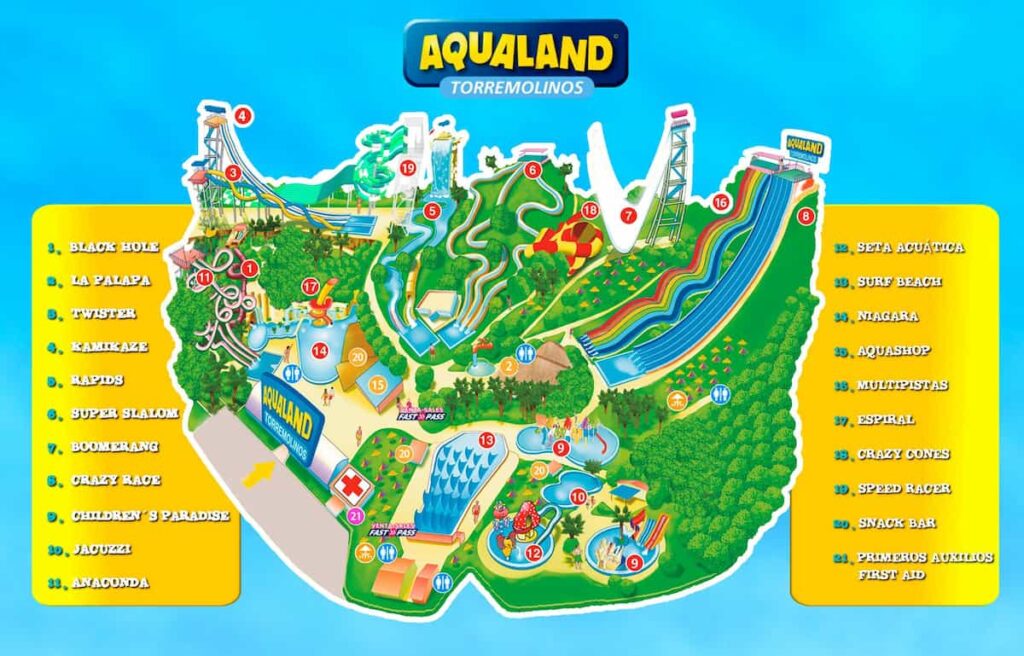 Aqualand's water attractions are divided into 4 main areas:
Adrenaline
As the name suggests, these are attractions for thrill-seekers, although many of them are also suitable for children.
Boomerang
Crazy Cones
Speed Racer
Multipistas
Twister
Rapids
Black Hole
Kamikaze
Crazy Race
Anaconda
Kidzworld
Activities and attractions for kids.
Aquatic Mushroom
Water world designed for children.
Children's Paradise
Slides, suspension bridges and many other water activities for children. They will definitely feel like they are in paradise.
Family Fun
Fun for families visiting the park.
Surf Beach
The popular wave pool and where the hammocks are located. It is usually one of the places to relax in the park.
Chill Out & Play
If you want to spend a relaxing and peaceful time.
Hydro massage
Bubble pool where you can recharge your batteries and continue having fun.
Price and opening hours
The opening hours during July and August are from 11am until 7pm.
11 to 64 años: 30€
5 to 10 años: 22€
3 to 4 años: 12€
+64 years old: 22€.
Price for a hammock: 4€.
Fast Pass, if you want to avoid long queues: 18€.
There are packs and combinations if you buy them online at a lower price.
Location: Calle Cuba, 10, 29620 Torremolinos, Málaga, España
Web: https://www.aqualand.es/torremolinos/
AquaMijas
Aquamijas is the water park in Mijas that offers you fun while you cool off. Among its special features is the season pass, for which you have the right to enjoy this water park every day by paying a fixed amount.
Especially suitable for families or friends, you'll have a great time at this water park.
Water Attractions
Kamikaze
With its 17 metres it is slightly smaller than the Aqualand in Torremolinos, but allows children as young as 7 years old to use it.
Bravo River
Suitable for 7 years old children in advance.
Crazy Loop
Suitable for 7 years old children in advance.
Slides Laberinth
Suitable for 7 years old children in advance.
Diver-Dragón
Suitable for 7 years old children in advance.
Adventure River
Suitable for 7 years old children in advance.
Jacuzzi
Suitable for 7 years old. Below that must be accompanied by an adult.
Soft slopes
For all ages.
Lizard Island
For children up to 6 years old.
Blue Lake
Swimming pool with monitors where you can relax.
Children's Pool
For children up to 6 years old.
Wave Pool
For all ages, ideal for family fun.
Price and opening hours
The water park opens on 10 June and closes during the month of September.
The opening hours may change, but from 1 July to 31 August they are from 10:30am to 7:00pm.
Older than 13 years old: 26,50€.
7 to 12 years old: 20,50€.
3 to 6 years old: 15,50€.
+65 years old: 18,50€.
There are packs and combinations if you buy them online at a lower price, and if you live in Malaga, Fuengirola or Mijas the price is much lower.
If you like to visit the amusement water parks a lot, there are season tickets to go if you want to every day.
You can find it here: Autovía del Mediterráneo, Km. 208, 29651 Las Lagunas de Mijas, Málaga, España
Website: https://aquamijas.com/
Aquavelis – Water park in Torre del Mar
Aquavelis is a water park in Torre del Mar for all ages. There are plenty of slides, pools, children's play areas and plenty of space with umbrellas to relax in the sun.
Virtual Reality
As we mentioned at the beginning of the article, each park is different and offers unique activities. In this case Aquavelis presents activities related to Virtual Reality; from a ride on a virtual roller coaster to multiplayer games and races at full speed.
Open all year round from 11:00 to 6:00pm, except in July and August when it closes at 7:00pm.
The price depends on the amount of time we are going to use it:
10 minutes for roller coasters, acrobatic flights and other individual experiences for €8.
20, 30 and 60 minutes for multiplayer games: €12, €15 or €25 respectively.
Experiences of more than 10 minutes can cause dizziness in people who are not used to it.
Water attractions
Wave pool, slides of all kinds and children's attractions. At Aquavelis you will have a great time with your family or friends.
Price and opening hours
The park is open from June to September, both from 11:00 to 18:00. During July and August the opening hours are extended until 7:00 pm.
The prices, unlike the previous parks, depend on the height:
Más de More than 1,40 metres high: 25,50€.
1,15 to 1,40 metres: 19,50€.
0,95 to 1,15 metres: 12€.
Over 65 years old: 19,50€.
You can buy a season pass to access the park every day you want during the same year. There are also discounts for buying online or by using one of the combined packages on offer.
Web: https://www.aquavelis.es/
Location: Calle Ruta del Pomelo, s/n, 29740 Vélez-Málaga, Málaga, España
Floating water parks on Malaga's beaches
If you like going to the beach and you also want to have fun, you might be interested in one of the following floating water parks. There are quite a few of them spread all along the Costa del Sol, so one of them is probably close enough for you to visit.
All parks have a bouncy castle or platforms that floats on the sea very close to the shore. There are slides, climbing areas, floating walkways and many other activities.
Wearing a life coat is compulsory and there are lifeguards, so these are safe activities for everyone.
WaterFun
They have a water park on the Malagueta beach and another one in Marbella.
The minimum age for admission is 6 years old. Children under 12 must be accompanied by an adult and both must pay admission.
Costa Water Park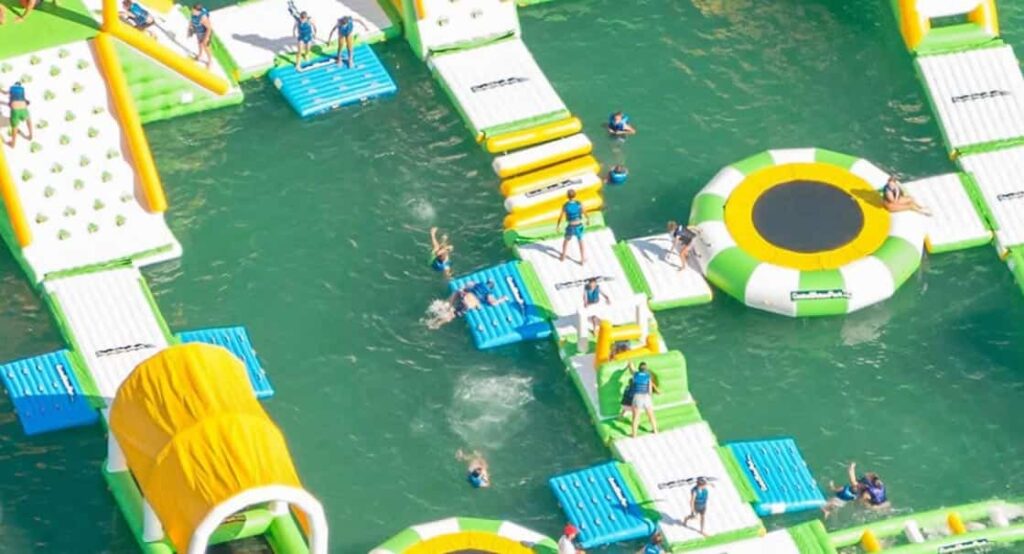 This water park is located on different beaches along our coastline. You can find it in front of the Bil Bil Castle in Benalmadena, on Carvajal beach, in Los Boliches and in Fuengirola.
It is open from 11:00 am to 8:00 pm 7 days a week, from June to September.
Children under the age of 6 must be accompanied and both children and adults must pay the entrance fee.
Fun Beach Park Estepona
Climbing area, inflatable platforms and other activities on the water in front of Estepona beach.
Other water parks in Malaga
There are more water parks in Malaga, but many of them belong to hotels. Soon we will make an entry with the best water parks in hotels and if they allow you to enjoy their attractions without having booked with them.
In anticipation of that article, Holiday World may charge admission. Inside you'll find pools, slides, a pirate ship and even underwater hammocks facing the sea. But there are many more, coming soon to the blog.
Holiday World Beach Club location: https://goo.gl/maps/BheD2btFNXUqc4Kr7
And finally, remember that we can take you to any water park in Malaga, just contact us. And if you are staying in a hotel we can provide you with a transfer from Malaga airport.