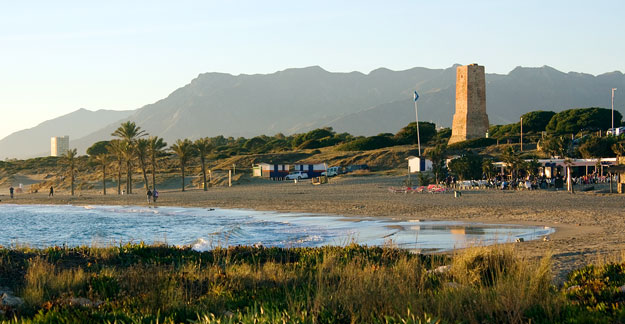 The urbanization Cabopino is one of the best known of Marbella, due to its beautiful Marina and the protected Artola Dunes.
Located in the eastern part of Marbella, about 13 km from the city centre in an environment of pine forests and beaches of dunes, Cabopino is one of the paradisiacal places of Marbella, located near a protected area called Artola Dunes and the lovely little marina of Cabopino.
1.- Port of Cabopino

The port of Cabopino is a charming marina with 169 moorings and with a good range of bars and restaurants. There is a varied offer of available activities such as jet skis, parasailing, scuba diving and dolphin watching.
2.- Urbanization Puerto Cabopino

The Urbanization Puerto Cabopino is a high-level housing development located in one of the quietest areas of Marbella. In the same area, 2 km from the port, there is also a golf course (Cabopino Golf Marbella), in addition to 10 of the best golf courses within a maximum radius of 15 kilometres.
3.- Cabopino Beach

Cabopino beach is large and has a protected dune area, being part of the beach popular among nudists. The sea there is calm and shallow and thus is considered a popular place for families.
4.- Artola Dunes

Within this beach is situated the declared Natural Monument Artola Dunes, one of the last unbuilt areas on the Costa del Sol and which is now protected. Recently there have been installed wooden boardwalks from where to enjoy this wild landscape of dunes and pines without interfering too much in the ecosystem.
5.- Torre de los Ladrones

Between the port and the dunes is situated the old watchtower Torre de los Ladrones of Muslim origin and later used by Christians to defend the coast from pirates.
Remember, MalagaTransfer.co.uk provides the best services for transfers from Malaga airport to Cabopino.