Welcome to Jerez de la Frontera, a captivating destination nestled in the heart of Andalusia, Spain. This historic city, celebrated for its sherry wine, vibrant flamenco scene, and rich equestrian traditions, offers a unique and enthralling experience for all who visit.
As you wander through the city's charming streets, you'll encounter a tapestry of architectural wonders, including the majestic Alcázar and the grand Cathedral, each with its own tale to tell. Jerez is a place where the scent of blooming orange blossoms wafts through the air, creating a truly enchanting ambiance.
A visit to one of the traditional bodegas (wineries) is a must, where you can savor the world-famous sherry wines. Immerse yourself in the passionate art of flamenco at a live performance and witness the city's long-standing equestrian heritage at the Royal Andalusian School of Equestrian Art.
Jerez is a city where Spanish culture comes alive, inviting you to savor its culinary delights, experience its warm hospitality, and lose yourself in the rhythms of its music. Your journey in Jerez promises unforgettable moments in the heart of Andalusia.
History of Jerez de la Frontera
Jerez de la Frontera boasts a rich and varied history that spans several millennia. Originally known as "Xera" during the Roman era, its advantageous position near the Guadalete River established it as a crucial trading centre. However, it was under Moorish rule that the city truly thrived. Renamed "Sherish", it became a hub for agriculture, art, and science.
In the 13th century, following the Christian Reconquista, Jerez was bestowed with the title "de la Frontera", marking its location on the frontier between Christian and Moorish territories. This heralded a new epoch for the city. The Christian rulers promoted vineyard cultivation, giving rise to the sherry wine industry that would gain global renown.
Throughout the 15th and 16th centuries, Jerez flourished as a nexus of trade and viticulture. The city's winemaking techniques were honed, and its sherry wine became highly coveted. Jerez also played a pivotal role in the Age of Exploration, with Christopher Columbus reputedly residing here prior to his voyage to the New World.
In the 18th century, the city underwent further expansion, and its splendid architecture, including the Alcázar and Cathedral, mirrors this period of affluence. Jerez emerged as a centre for equestrian arts with the establishment of the Royal Andalusian School of Equestrian Art in the 18th century, which remains emblematic of Jerez's equestrian heritage to this day.
Presently, Jerez de la Frontera is celebrated for its sherry wine, flamenco culture, and equestrian traditions. It is a city where history and vibrant traditions blend seamlessly, attracting visitors from across the globe.
Attractions
Jerez de la Frontera boasts a wealth of cultural and historical treasures that invite exploration. At the heart of the city lies the Alcázar de Jerez, an ancient Moorish fortress with a fascinating history. Its stunning architecture and tranquil gardens offer a glimpse into the city's past.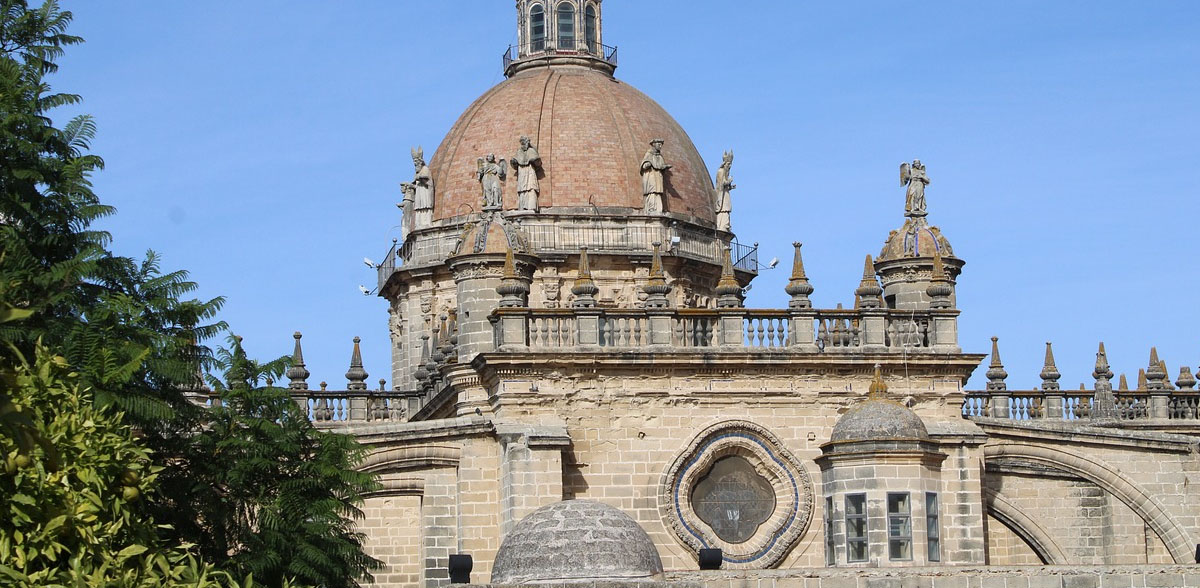 Jerez de la Frontera is a city where history, culture, and passion converge, inviting you to explore its vibrant tapestry of experiences.
Activities
Jerez de la Frontera offers a vibrant tapestry of activities and events that promise a rich and immersive experience for all visitors. From annual traditions that paint the city with cultural hues to special celebrations that showcase the essence of this enchanting Spanish gem, Jerez's activities reflect the heart and soul of this historic city. Whether you're a fan of flamenco, a wine enthusiast, a motorsport lover, or simply looking to soak in the local culture, Jerez's diverse calendar of activities is sure to captivate and inspire.
Horse Fair: Celebrated every May, this is one of the city's largest and most significant festivals, declared of International Tourist Interest.Takes place during the first two weeks of May, making it a vibrant start to the month.
Jerez Flamenco Catwalk: Celebrated from early to mid-February, it's a delightful way to experience flamenco art.
Holy Week: One of the most popular and moving festivals, it takes place in spring, with dates varying each year according to the liturgical calendar.
Harvest Festival: It includes Grape Stomping, the Grape Harvest Gastronomic Fair, the Bulería Festival, and the International Puppet Festival. This event takes place in September
Christmas Celebrations: Annual holiday celebrations with the official Christmas lighting around November 23rd.
Special Events
Rabanito Festival: An autumn event in Jerez, including city tours, gastronomy and Jerez wine tastings, performances, and local culture. It's celebrated on November.
Spanish MotoGP Grand Prix: Held at the Jerez-Ángel Nieto Circuit, this event attracts thousands of motorcycle racing enthusiasts and occurs on the last weekend of April.
Gastronomy
Jerez de la Frontera's cuisine is a delightful representation of the rich Andalusian culinary tradition with influences from the Arab and Roman cultures. The city is renowned for its delectable food, and particularly stands out for the following reasons:
Jerez Wines and Gastronomy: One of the culinary highlights of Jerez is its close relationship with the famous Sherries, including Fino, Amontillado, and Oloroso. These wines are integral in dishes like "pollo al jerez" (chicken in sherry) and "atún a la jerezana" (Jerez-style tuna). Jerez's wineries also offer tastings and pairings that allow visitors to explore the interplay between food and Jerez wine.
Fresh Fish and Seafood: Jerez's proximity to the ocean ensures an abundance of fresh fish and seafood. Dishes like "pescaíto frito" (fried fish) and "almadraba" (bluefin tuna) are both popular and delicious.
Game Dishes: Hunting is a long-standing tradition in the region, and game-based dishes such as "venao" (venison) and "perdiz" (partridge) are cherished for their distinctive flavors.
Typical Andalusian Fare: Jerez offers iconic Andalusian dishes like "salmorejo" (a variation of gazpacho), "ajo caliente" (a fish and garlic stew), and "flamenquín" (breaded and fried meat rolls). These dishes reflect the rich culinary tradition of the region.
Sweets and Desserts: Sweets enthusiasts will revel in delights like "tocino de cielo" (a rich egg yolk dessert) and "piñonates" (pine nut sweets). Jerez's pastry creations are a true delight.
How to get to Jerez de la Frontera
Traveling from Malaga Airport to the captivating city of Jerez de la Frontera is a journey that promises both convenience and cultural exploration. Whether you're a seasoned traveler or this is your first visit, here's a guide on how to reach Jerez from the Airport, where you can count on us for seamless Malaga airport transfers.
By Road:
Private Transfers: To make your journey as hassle-free as possible, consider booking a Malaga airport transfer to Jerez de la Frontera. Our experienced drivers will be waiting for you, ready to take you on a comfortable and scenic ride.
Car Rental: Malaga Airport has several car rental companies, allowing you to rent a vehicle for the duration of your stay in Jerez. The drive from Malaga to Jerez is approximately 200 kilometers, and it offers beautiful views of the Andalusian landscape.
By Public Transport:
Train: From Malaga Airport, take a train to Malaga's main train station, María Zambrano. From there, you'll need to transfer to a train to Seville, as there is no direct train to Jerez. Once in Seville, you can catch a connecting train to Jerez de la Frontera. The train journey offers a chance to admire the countryside, and the connection in Seville is straightforward.
Bus: Alternatively, you can take a bus from Malaga Airport to Malaga's main bus station, Estación de Autobuses. From there, you can find a bus service to Seville. Upon arriving in Seville, you can then take a connecting bus or train to Jerez de la Frontera.
Book your transfer to Jerez de la Frontera online today through our website and enjoy the journey in the most comfortable means of transportation.