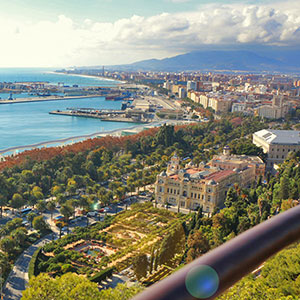 Below we are going to explain 15 essential things to do in Malaga; we hope this summary guide about the best of Malaga might be helpful when planning your holidays on the Costa del Sol.
1) Enjoy a day on the beach
Not only if you are traveling to Malaga but if you come on holiday to Spain in summer by any means you should try to visit the coast and enjoy a day at the beach sunbathing and having a swim. In Malaga province are outstanding for this activity the beaches of Nerja, Marbella, Estepona, Manilva and Benalmadena.
2) Typical gastronomy
Its highly recommended to combine a beach day with lunch at a beach bar or in a traditional restaurant where are served Paella, good fried fish, sardines, Gazpacho, Serrano ham and delicious meat dishes among other typical dishes of the Costa del Sol.
3) Eating Tapas
Enjoying a few glasses of wine and tapas in the bars and establishments in downtown Malaga is one of the essential activities. And why not do it in one of the places par excellence? That is, in the Bodega Bar El Pimpi.
4) The most important celebrations
If you are lucky enough to come to Malaga to coincide with one of the two major celebrations, the August Fair and the Holy Week, seize the opportunity to join these annual events and live the celebrations like a local. The Fair is a celebration that invites to have fun and enjoy yourselves, while Semana Santa is a religious holiday of very solemn character.
5) Take a stroll along Larios Street
If you want to explore the historic centre of Malaga it is also imperative to take a walk through the street Marques de Larios or better known as the main artery of the city centre. Besides being famous it's also pretty.
6) A walk along Pier One
Since their first day of Inauguration in 2011, Pier One and Pier Two became automatically a new attraction in Malaga city. You should not miss a nice walk in this beautiful area.
7) The Cathedral of Malaga
Religious or not, it can't be denied that cathedrals transmit magnificence and are a tourist attraction. The "Manquita", as the cathedral in Malaga is called due to the fact of having constructed only one of its two towers is not less and we are sure you will like it.
8) The Roman Theatre
It is not one of the most spectacular Roman Theatres in the world but due to its conservation and location, at the foothills of Gibralfaro Mountain with the Alcazaba of Malaga on top, it is definitely worth a visit.
9) The Alcazaba of Malaga and Gibralfaro castle
What to do after a visit to the Roman Theatre? Of course a visit to the Alcazaba of Malaga from the 10th century and the Gibralfaro castle from the 13th century, which are two of the most impressive Moorish constructions in Andalucia. Also take advantage to take pictures from the city from the Gibralfaro viewpoint.
10) You like Museums
In case you are an art lover we can recommend visiting the art works displayed at the Picasso Museum Malaga, Carmen Thyssen Museum and CAC Malaga (Contemporary Art Centre). And if you love cars include in your list the Automobile Museum.
11) Get to know us
In case you had doubts the people from Malaga are kind and very funny people. If you have the fortune to get to know us while you go for a drink at night, during a day at the beach or walking around town, we can only add – enjoy our great company!
12) Going Out
If you like going out from time to time, have fun going out in the city centre of Malaga, Puerto Banus, Marbella, Torremolinos or Puerto Marina in Benalmadena until the wee hours or if you endure it until later to watch a beautiful sunrise on the beach.
13) Travelling to the Inland Villages
If you are interested in enriching your visit to Malaga you have the great chance to visit some of the many inland villages where are outstanding the most popular and important ones such as Ronda, Antequera and Mijas Pueblo. Yet there are other not so popular villages which will surprise you: Frigiliana, Alora, Casares, etc.
14) Impressive natural sites
Malaga has fantastic natural environments that will leave you with your mouth open, some of them are El Chorro in Ardales, the Torcal in Antequera, Mount Calamorro of Benalmadena, the Natural Park Sierra de las Nieves or the Nerja caves.
15) Enjoy the best means of Transport
If you never have enjoyed the comfort and multiple advantages of a transfer, we recommend booking one to get to your hotel with a private Taxi company from Malaga airport. Forget about queues, unpleasant surprises o having to carry your luggage along the way. Indulge in your holidays.