The night of the 31st of October is Halloween in Malaga. It is a day with many activities and a common theme; costumes and a terrifyingly fun atmosphere. Will you join us?
We will propose plans for children and for adults, so that you can choose the one that best suits your tastes and needs. If you need it, we can provide you with a means of transport that will adapt to your needs.
There are usually a lot of events, so many that it would not be possible to list them all, so we will make a selection. Some venues may not yet have provided information on planned Halloween activities; in these cases we will provide you with an idea of what to expect and update the information as it becomes available.
Halloween in Pier One
In Muelle Uno, many establishments offer trick-or-treating from 5pm onwards. They offer candy to children in costume and discounts to families.
On 31 October 2021 there is one hour of free parking; for anyone who shops or consumes in the associated businesses. If you don't want to go by car we can give you a lift.
The fancy dress competition usually takes place at 6.30pm and is open to children, adults and families. At the end of the day there is a photocall in the main square and they raffle prizes among all those who take part by uploading their photos to social networks.
Sounds interesting?
Halloween in shopping centres
The living dead and different ghosts that roam the world of the living during the 31st of October will also be in the shopping centres. We don't know what they will be buying, but children will be able to take part in workshops and competitions.
If you like you can visit our article on shopping centres in Malaga, where you will find the location of each one of them and links to their websites, where they promote the events every year.
Other years, to give you an idea, the Miramar shopping centre in Fuengirola, held a free workshop to create terrifying masks; a touch of fun for children in the current situation.  Larios Centro, for its part, encouraged the search for ghosts, Rosaleda proposed a Cluedo on Social Networks while El Ingenio in Velez, raffled a cinema ticket for those who came dressed in costume to the shopping centre.
Other shopping centres that usually propose Halloween activities are El Corte Inglés, Málaga Nostrum, Ikea Málaga and Málaga Plaza.
Halloween in Malaga city centre
Did you think you would be safe from Halloween and the ghouls from beyond the grave walking peacefully through the centre of Malaga? Far from it, Calle Larios will be one of the main costume showcases; perfect to go with the family and enjoy this special day.
If you prefer to venture deeper into Soho, every year there are workshops and activities for all ages. Younger children can learn Halloween-themed crafts such as pumpkin making and face painting. Last year Comic Stores developed an "Escape Room" inside the shop. The opening hours are usually from 6pm to 9.30pm and some activities might require prior registration.
Halloween Party in the Parks of Malaga
Ghosts and spectres also come to the parks in Malaga, where there are activities and even terror passages. Children will especially enjoy all the activities and slides.
Halloween in the Botanical Garden
There is nothing more magical, spooky and exciting than a night visit to a place as special as the Botanical-Historical Garden La Concepción; a natural open-air space with a great history. Who knows if the ghosts of its former owners are still roaming around? This place with more than 150 years of history is located at the northern entrance to the city. It is one of the few gardens with subtropical plants that can be found in Europe.
It's well worth a visit and if you visit during Halloween, you'll probably be able to enjoy a variety of other activities and events. Every year they usually organise dramatised visits during special dates in the calendar, so it is possible that on Halloween you can attend one of them. If you would like more information you can contact us on 951 92 61 80 or send an email to botanicolaconcepcion@malaga.eu.
Web: https://laconcepcion.malaga.eu/
Visit a cemetery on Halloween
In Malaga there are 2 well-known cemeteries, one is the English Cemetery and the other the Cemetery of San Miguel; both have a long history and hold the remains of different personalities.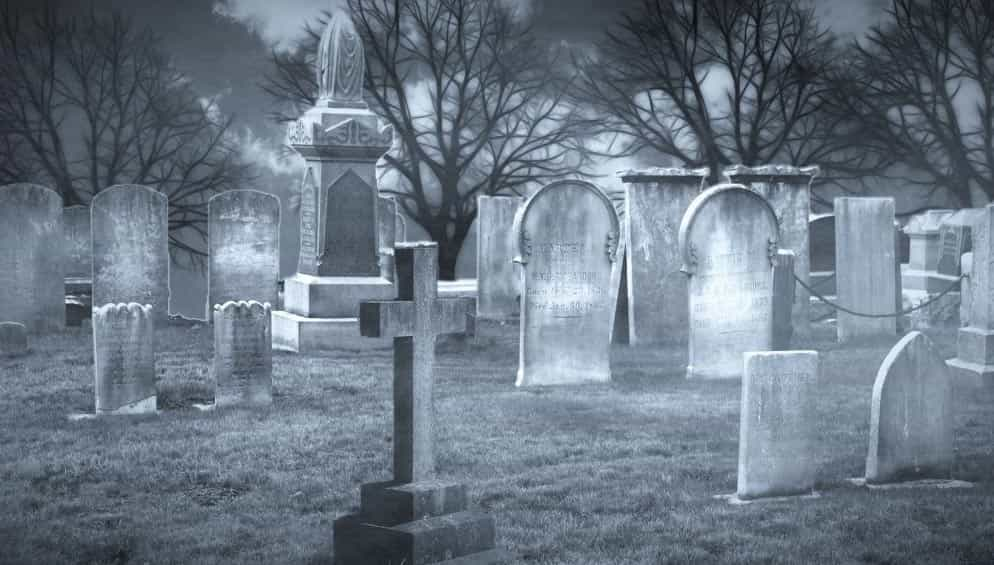 San Miguel Cemetery
The origin of this cemetery dates back to 1 July 1810. It fulfilled its function until 1984; at present it does not accept new burials, it is a historic place in Malaga. Here we find the Pantheon of the Loring family, who in the past inhabited the Botanical-Historical Garden of La Concepción. Some years guided tours are available on Halloween night; in any case you can visit it all year round. The next closest night visit to Halloween is on 16 October 2021 at 18:00.
Opening hours: Monday to Friday and Sundays from 10:00 to 2:00 and from 4:00 to 6:00 pm. Saturdays until 7:00 pm.
Information phone:

+34 952 25 08 56
English Cemetery
From 1831, it is a Protestant cemetery that was built to bury those who did not follow the Catholic faith. In those days Protestants had to be buried in the sand of the beach; this happened until the city authorities gave the land where the cemetery stands today. For almost 2 centuries the cemetery was administered by British consuls until 1903 when they withdrew all appropriations and it fell into a state of neglect.
Finally the cemetery was handed over to a society that would take over its conservation in 2006. Today the English Cemetery is an Asset of Cultural Interest that is maintained thanks to the sale of souvenirs, books and donations. Some years guided night visits have been held for a small fee in Halloween, which also helped to preserve the cemetery.
Opening hours: Tuesdays, Saturdays, Sundays from 10:30 am to 3:00 pm.
Price: 5€ except for family members of the deceased and accompanied children under 12 years of age, who have free admission.
Halloween in theme parks and museums
If you are travelling with children, you may be interested in visiting a theme park in addition to the suggestions above, in which case they usually offer discounts, free admission or surprises for children in costume. Activities can start up to a week before Halloween, so keep an eye out if you are interested in participating in any of them.
Benalmádena Cable Car
With typical decoration of this date both at the entrance of the cabin and when you reach the top, it is a place that the little ones will enjoy. In previous years, children between 3 and 10 years old in fancy dress received free admission.
Sea Life
Scary activities and crafts for kids, children in costume between 3 and 10 years old usually get free entry every year.
BioParc
Every year they have a gynkana where you have to be attentive to win, children up to 9 years old in costume do not pay admission.
Aeronautical Museum
The aeronautical museum might join Halloween, in past years it offered a free gift to families who came in costume. Will it be repeated in 2021?
Automobile and Fashion Museum
More activities, although the date usually varies. In past years the Fear Museum was hold on 29 October, we still waiting to know if they will participate in Halloween this year.
Halloween in other municipalities
The celebration of Halloween spreads throughout the Costa del Sol and the province of Malaga. It is common for special events to take place, such as terror passages, workshops, bouncy castles, dances and all kinds of activities. We will update them as they come out with their programmes, although they use to be similar every year:
Make-up workshops
Passages of terror
Costume contests
Parades
Halloween in Velez-Malaga
With its own name comes the proposal of Velez-Malaga for next Halloween. In VelezWeen we find a terrifying train, a terror train, face painting workshops and even the projection of a film.
It takes place in different areas of the town, from the shopping centre and its workshops, to the terror passage of the Associations from where there is also a terror train to Plaza de las Carmelitas. Many of the neighbourhood associations have their own horror parades, so you can meet monsters and other creatures as you walk around.
Maroween
Throughout the 31st October this celebration takes place in Maro, a small village near Nerja. There are concerts, a street market, fiesta and lots of activities; if you are in Nerja there is a bus that connects the two towns until late at night.
Halloween in Churriana
Popular over the years has been Churriana's Pasaje del Terror in the neighbourhood of Las Pedrizas. There are usually concerts, parades and terrifying activities for the little ones. If you go by car you should park in front of the cemetery of the municipality, from there you can move on foot.
Halloween in Torremolinos
Every year various events take place throughout the municipality of Torremolinos. You can find a Gymkana in the Molino de Inca and a scary costume parade in the centre.
Scary night in Benalmadena
In Plaza de la Mezquita there is usually a Pasaje del Terror. In Plaza de las 3 Culturas you might find this year a make-up, screaming and costume contest with music, drinks and food.
Halloween in Fuengirola and Mijas
In Fuengirola you should go to the Plaza de la Constitución from 9pm until midnight.
Halloween in Mijas is celebrated in the three main centres of population, in the Corte Inglés and in the Ludoteca
Mijas Pueblo: Plaza Virgen de la Peña (Map)
Las Lagunas: Plaza de la Tenencia de Alcaldía (Map)
La Cala: In front of supermarket Supersol (Map)
Halloween in Marbella and Puerto Banús
It seems that this year a Haunted Park has appeared in what is known as Parque de la Represa (Map). It will be there where all the attractions that in the past were located in other parts of the city will converge. What do they have planned for us? Well, according to what we are told, in 2021 there will be not one, but two terror passages, a Halloween train, a ghost bus and, of course, children's attractions, parades and even theatre.
There are different time slots that require booking: from 11.00 to 14.30, from 16.00 to 19.30 and from 20.00 to 23.00 hours. Reservation is available from 18 October, 9 in the morning to 2 in the afternoon at the Festivities Office, on telephone numbers 952 76 87 56 and 952 76 87 59.
With the reservation they provide a code to access the enclosure, children will also receive an identification bracelet and a bag of sweets. Among the attractions for kids there are boat rides, trampolines and a minotaur maze, among others.
Let's remember that this celebration will take place from the 31st of October in the aforementioned park, no longer in the Old Town of Marbella.
Cabopino Campsite celebrates Halloween during 2 weekends. (Map)
How to enjoy Halloween Night in Malaga
Halloween night can be enjoyed by everyone, families with children but also adults who want to have a good time. If all you want to do is go out for dinner, you can choose a restaurant that offers a themed night; there are many that adapt to this special moment.
What we have mentioned above is just a small sample of what is going on in the province of Malaga. There is so much more but we can't name all the events that take place from mid-October to November. If where you are at the moment is not on this list don't worry, there will probably also be some celebrations in the main square. If you want you can ask us for specific places and we will try to find the information for you.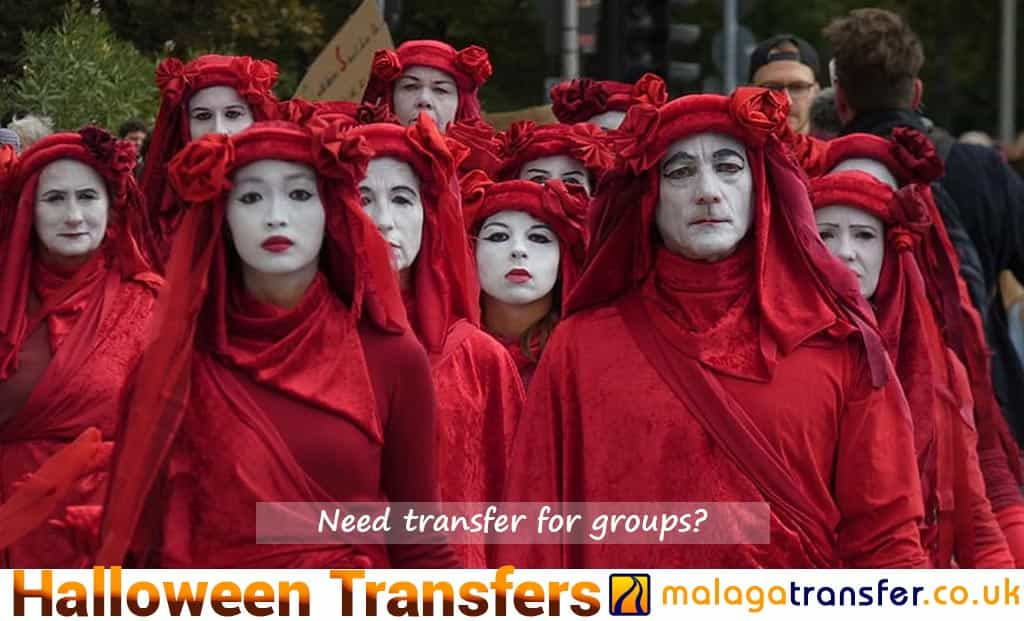 And finally, we wish you a great time on this night. If you need transport remember that we are available 24 hours a day, 7 days a week, so you can book our transfer service in Malaga in advance. We have vehicles to adapt to any number of passengers so do not hesitate in telling us your needs.