If you are planning a trip to our province, you are going to have to choose a means of transport from Malaga airport. Let's find out about all the possibilities and what is the best option for you.
From Malaga airport it is unlikely that you are going to travel on foot. We will review below the different transportation means from the airport so that you can decide which one to choose.
Taxi transfer from Malaga airport
If you choose our services you can rest assured that a team of professionals will ensure the comfort and tranquillity of your journey from the plane to your destination. We have attention to detail and a wide range of vehicles to choose from.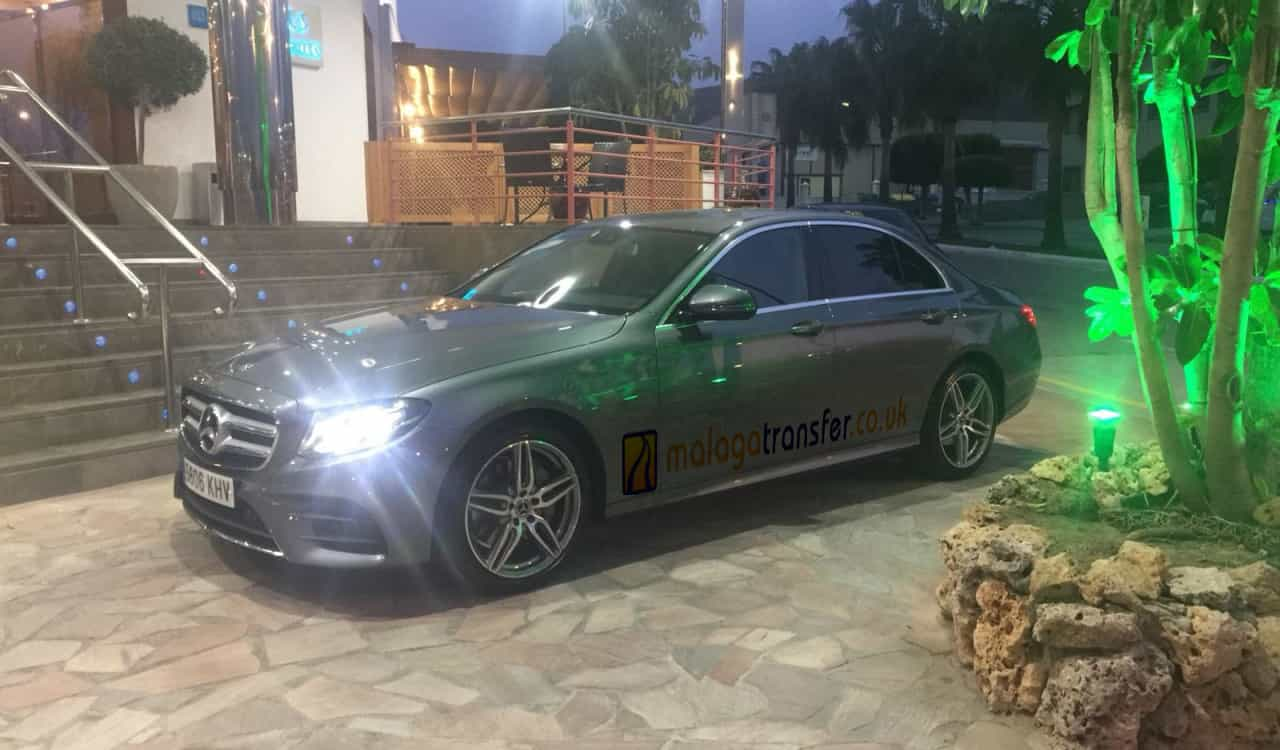 Why choose a taxi transfer as transport from Malaga airport?
If you speak English, you'll be glad to know that the drivers are fully bilingual and quite friendly.  Also, if you are travelling with more people the price per passenger can be really low.
If you are travelling with a lot of luggage or your own golf equipment, we can help you with your transfer without having to pay extra.
Another advantage is that a taxi transfer is there for you and your needs; you say when you need the transfer there and back, a driver will be waiting for you at the appointed time. No mention that our vehicles are all clean and in perfect conditions.
You can check our services for Malaga airport transfers by following the link.
Bus transfer from the airport
The bus is an economical means of transport although not the most comfortable, especially if you are travelling in a group or with a lot of luggage. Otherwise, if the bus stop is close to your destination and you travel just with hand luggage, it may be an option to consider.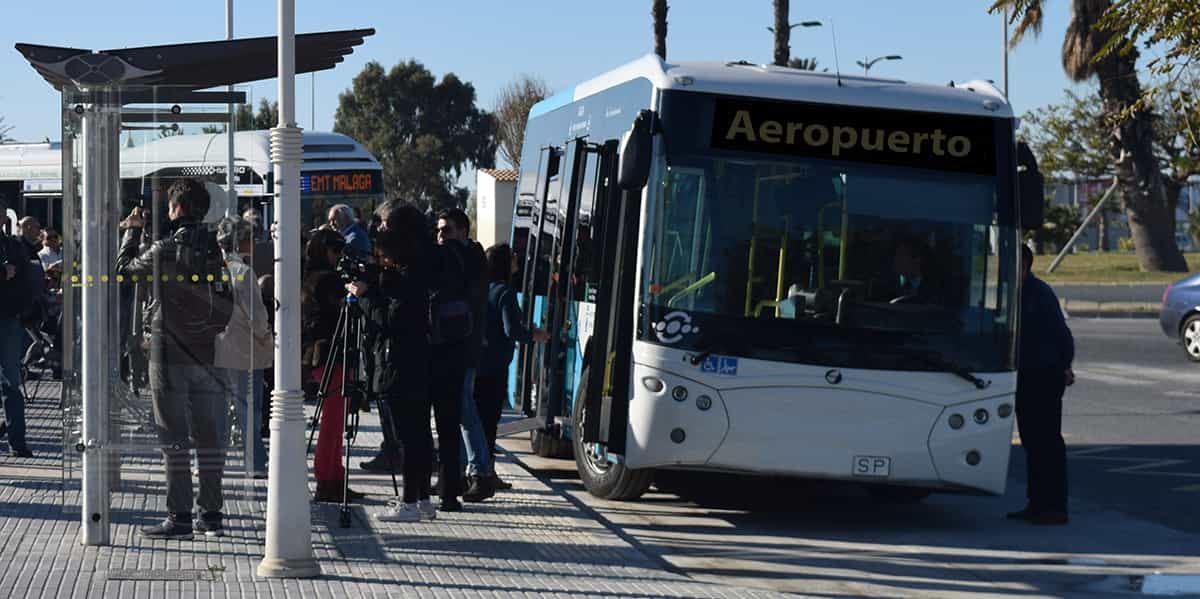 Where can you go by bus from the airport? There are many destinations, especially in high season; one of the most used is the bus that goes to the centre of Malaga, from where you can take connections to other destinations. The price of this bus is 3€.
More information about this bus line at: https://www.emtmalaga.es/es/lineas-y-horarios/linea-express-aeropuerto-/
Where do I take the bus? The bus leaves from the arrivals terminal, where various bus lines offer their services.
Other destinations by bus from Malaga airport are:
Marbella
Estepona
Granada
Almería
Sevilla
More information about this other bus line at: https://www.alsa.es/
In addition, as we have said, you can link up with the Malaga bus station, with an even greater choice of destinations.
Malaga airport trains
Trains from Malaga airport an inexpensive, reliable and comfortable means of transport, although in high season it is unlikely that you will find a free seat. We recommend checking if your destination is close to a train station.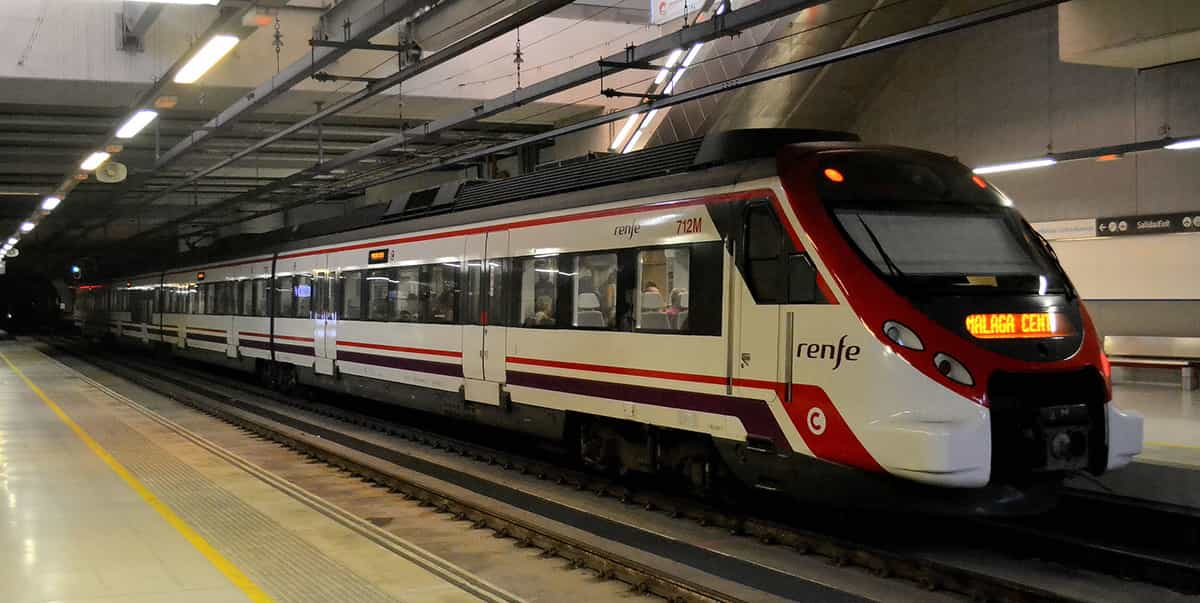 The good thing about taking the train is that you can rely on the timetable; they are unlikely to be delayed unless there is a breakdown or a strike.
The suburban line from the airport links to Malaga city centre, Maria Zambrano station and Fuengirola. The bus station is also close to María Zambrano station, in case you want to connect to another destination.
The ticket price tends to go up every few time; in case you decide to take a train we recommend you to buy the "bonotren" which will give you access to 10 journeys that you can share.
You can find the train station after exiting the airport, just follow the signs to get there or check the following map.
You can check the timetables at the following url: https://www.renfe.com/es/en/suburban/suburban-malaga/timetables
Train stops from the airport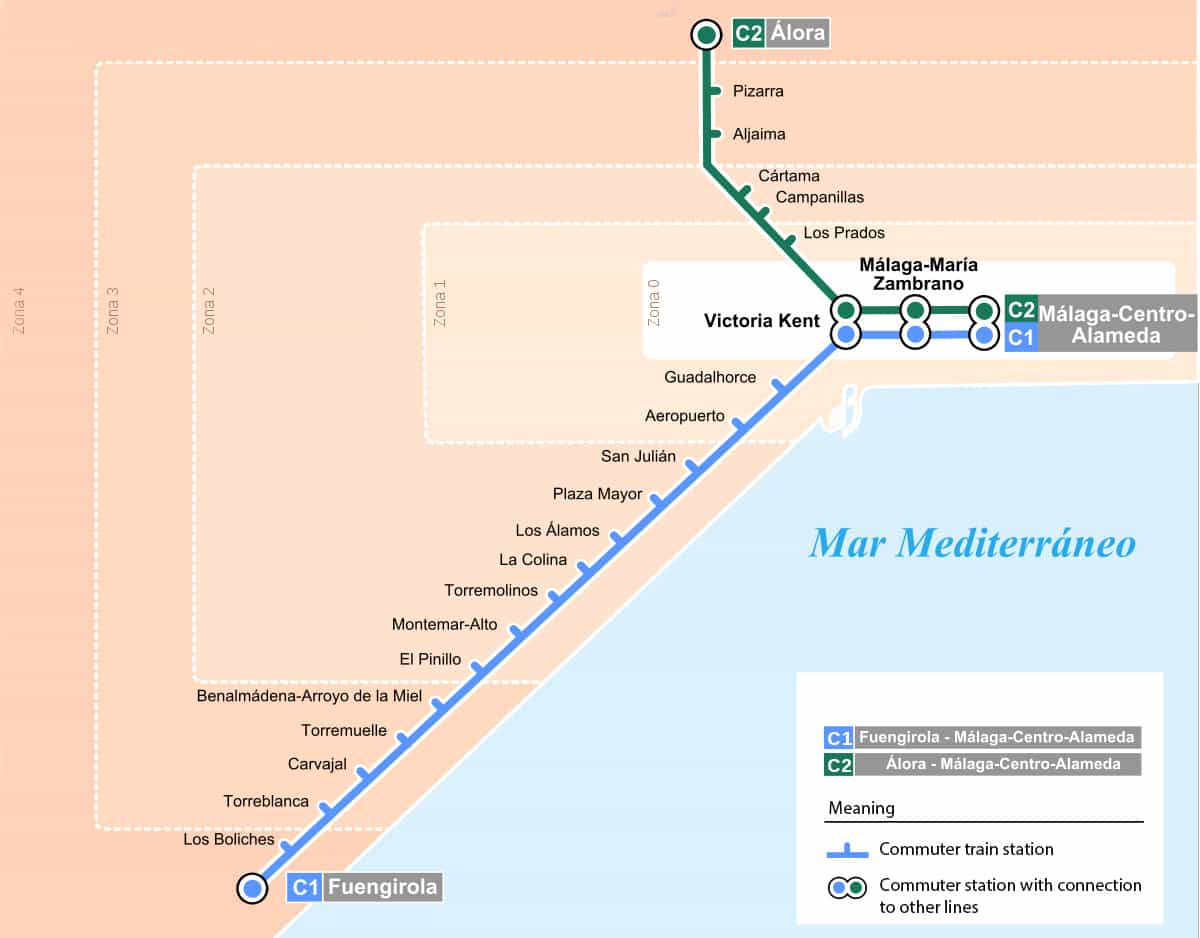 The stops from the airport to the centre of Malaga are:
Guadalhorce
Victoria Kent
Estación María Zambrano
Centro Alameda
The stops from the airport in the direction of Fuengirola are:
Plaza Mayor
Los Alamos
La Colina
Torremolinos
Montemar Alto
El Pinillo
Arroyo de la Miel
Torremuelle
Carvajal
Torreblanca
Los Boliches
Fuengirola
Train ticket price
The ticket price depends on the number of zones you pass through. In 2022 the prices of local train tickets in Malaga are as follows:
| | |
| --- | --- |
| Zones 1/2 | 1,80 € |
| 3 Zones | 2,05 € |
| 4 Zones | 2,70 € |
| 5 Zones | 3,60 € |
*These are one-way ticket prices for a single person.
Price for bonotren
Remember that the "bonotren" have 10 single trips you can use and share with anyone, even on the same trip. Just consider to check with our map above, how many zones will you need.
| | |
| --- | --- |
| Zones 1/2 | 11,95 € |
| 3 Zones | |
| 4 Zones | |
| 5 Zones | 25,05 € |
Rent a car in Malaga
If you need freedom to move around and want to go where you want to go when you want, then renting a car in Malaga may be the best option for you. The best about renting a car is that you can choose the model you need, spending as little as you need. Pay just for the petrol you use and you can discover the province of Malaga at your own pace.
We can recommend the following car hire in Malaga with many positive reviews and located at the airport area.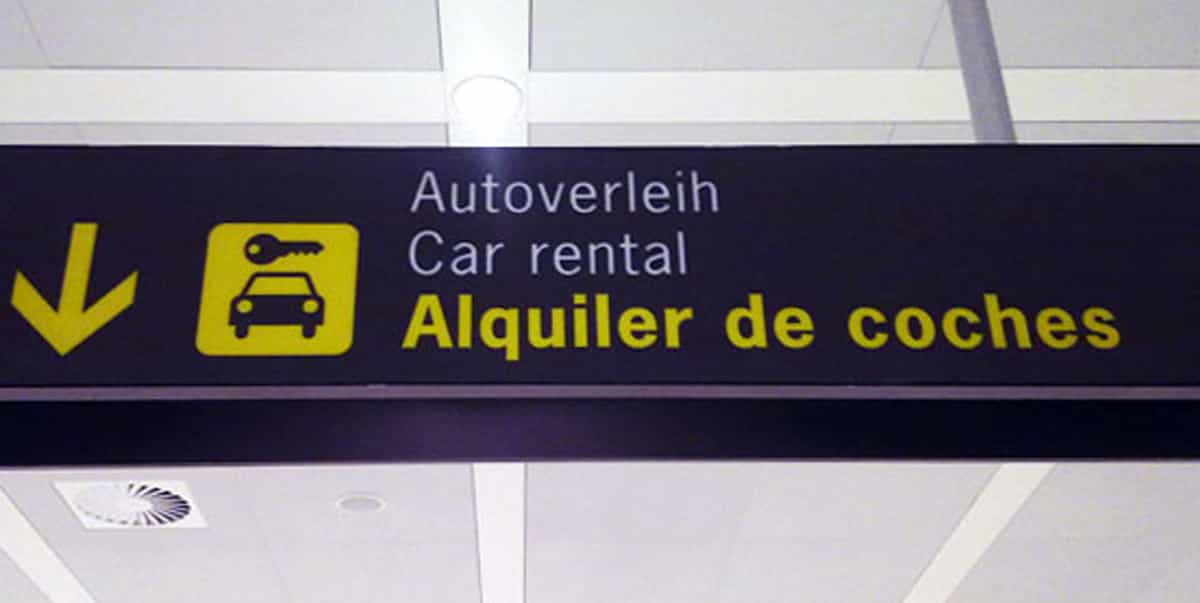 In case you don't like or don't want to drive, remember that you can always count on us. What means of transport from Malaga airport do you prefer?