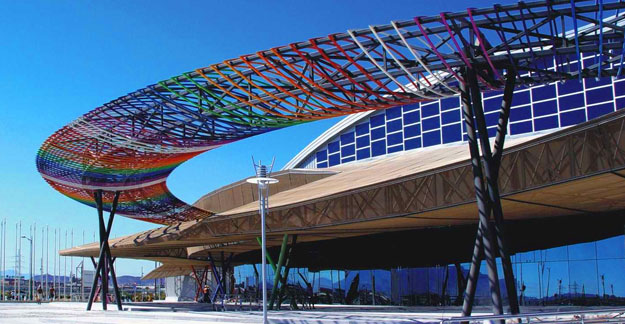 Further below we provide information on the upcoming fairs and conferences at the Trade Fair and Congress Centre of Malaga during November and December 2014.
Entrepreneur Forum "Ser Emprendedor" November 19 and 20, 2014
For the third year is held the self-employment Forum Ser Emprendedor, an event in which meet entrepreneurs of all Andalusian provinces, assisting as well a large number of renowned speakers in the business world. Any entrepreneur or future employer will find in this forum an event not to be missed where will be worked on each of the phases of the entrepreneurial process.
SIMed November 21, 22 and 23, 2014
This year takes place the tenth edition of the Mediterranean Real Estate Exhibition, an event focused on sales and property opportunities on the Costa del Sol. The main theme this year is how to reduce the stock of houses in Malaga; it also serves as a showcase for real estate agents to communicate directly with the public and thus show their latest offers and promotions.
Exhibition of second hand cars "Salon del Motor de Ocasion" November 21, 22 and 23, 2014
Again this year the exhibition aims to show attendees vehicles of all kinds while maintaining the best value on the market. An interesting event for those who seek a used car at a good price.
10th Outlet Fair Malaga November 21, 22 and 23, 2014
In its tenth year, the Outlet Fair Malaga aspires to continue as in previous years offering up to 300,000 products in adult fashion, children's fashion, sporting goods, sportswear, perfumes, optical, home appliances, computers, etc.
Market Nuevo Futuro December 5 to 8, 2014
The event Nuevo Futuro is organized by the association Nuevo Futuro, a non-profit entity that focuses all its efforts to receive and treat individually children who have been deprived of a decent home environment. At the market you will have the opportunity to purchase any product you are interested in while you collaborate with the social project of Nuevo Futuro.
XI MIMA from December 26 to January 4, 2015
The 11th Children´s Fair repeats another year to provide families an ideal space for leisure and entertainment at Christmas time. Practically the whole Congress Centre becomes an amusement park with a large number of sports, recreational and educational activities for children between 2 and 12 years. Furthermore parents also have their own entertainment area.
Transfers for Congresses in Malaga
The Congress Centre of Malaga is situated in Avenida de Jose Ortega y Gasset, 201 next to the fairgrounds. If you get to the city from the airport you can obtain a suitable transport for the occasion thanks to our conference transportation services. If you wish to obtain more information on the Congress Centre please visit: http://www.fycma.com/