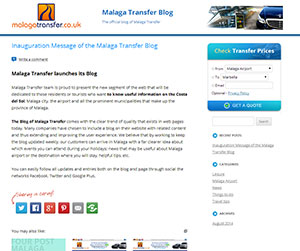 Malaga Transfer team is proud to present the new segment of the web that will be dedicated to those residents or tourists who want to know useful information on the Costa del Sol, Malaga city, the airport and all the prominent municipalities that make up the province of Malaga.
The Blog of Malaga Transfer comes with the clear trend of quality that exists in web pages today. Many companies have chosen to include a blog on their website with related content and thus extending and improving the user experience. We believe that by working to keep the blog updated weekly, our customers can arrive in Malaga with a far clearer idea about which events you can attend during your holidays; news that may be useful about Malaga airport or the destination where you will stay, helpful tips, etc.
You can easily follow all updates and entries both on the blog and page through social the networks Facebook, Twitter and Google Plus.