Our fleet of taxis and minibuses
We use the best prestige cars to provide the best taxi services at Malaga airport. Take a look to our new cars and buses and choose the one that better fits your needs.
STANDARD CARS
We offer a transfer for Standard category with the next cars: Opel Vectra and Ford Mondeo.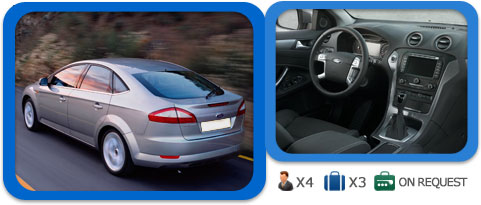 Note: * The total capacity of golf equipment that can be carried in each vehicle varies depending on the amount of luggage and number of passengers.
EXECUTIVE TAXIS
A Mercedes E-Class and BMW 5 Series. We speak of two high performance tourism cars, shining by their comfort and safety on roads and city. Know more about reviews of clients telling their experiences with MalagaTransfer services.
LUXURY CARS
A transfer with our elegant Mercedes Class S or with our new BMW 5 Series Gran Turismo becomes a unique experience. Safety, luxury and comfort are the three words that sum up this jewel of the automotive world. We undoubtedly believe that this is the best vehicle for a transfer from Malaga airport to your hotel and back. For a slightly higher cost than standard and executive vehicles, you will enjoy the perfect start and end of your holiday on the Costa del Sol, something that everyone would like to have.
We really think that this class of vehicle is perfect for wedding transfers. malagatransfer.co.uk also has limousines for this type of service.
PEOPLE CARRIERS
Volkswagen Transporter and Mercedes Viano. Both vans are perfectly adapted to transport several persons and golf equipment to the golf courses that you choose.
Maybe you are interested in golf transfers in Malaga.
MINIBUS 12 PAX
For larger groups of people we use the Peugeot Boxer minibus, which can easily take up to 12 passengers.
MINIBUS 19 PAX
Transfers from Malaga airport to any destination on a Mercedes Sprinter. This type of bus is specially to realise tours in Andalusia. Compare our prices from the following link.
With the 19-seater minibuses there is the possibility of adding a trailer when travelling with plenty of luggage.
BUSES

Our Buses are ready to pick up 26 passengers and 26 suitcases or 54 passengers and 54 suitcases, especially for excursions and day trips to different towns of Malaga or provinces of Andalusia.
If you liked our fleet of taxis and want to make a booking inquiry to malagatransfer.co.uk, simply fill in our simple form: